Anyway – the point to all of this is to talk 'Embrace the Suck'.
Next month, in an attempt to reduce my 'limbic friction' – i.e. to reduce the gap between intention and action – I will be running 5 miles, trap-bar deadlifting 100 kilos 100 times, and doing 100 push-ups – every day, for a month.
This will be really hard for me.
It will suck … and I will (attempt to) embrace it (thus the name).
I was talking to my friend Steve Mesler about this a few months back.
You might have heard of Steve?
Steve – a 3-time Olympian / 1-time Gold Medalist – is the co-founder and President of Classroom Champions. If you don't know, Classroom Champions is a program that pairs volunteer Olympians, Paralympians, student-athletes and professional athletes from varying backgrounds with underserved K-8 classrooms across North America. This diverse group of athlete mentors teach critical life skills like leadership, perseverance and goal setting to these kids through the lens of their own athletic and personal experiences. The program improves engagement, builds growth mindsets, and inspires positive classroom culture.
It is awesome! And they do awesome things!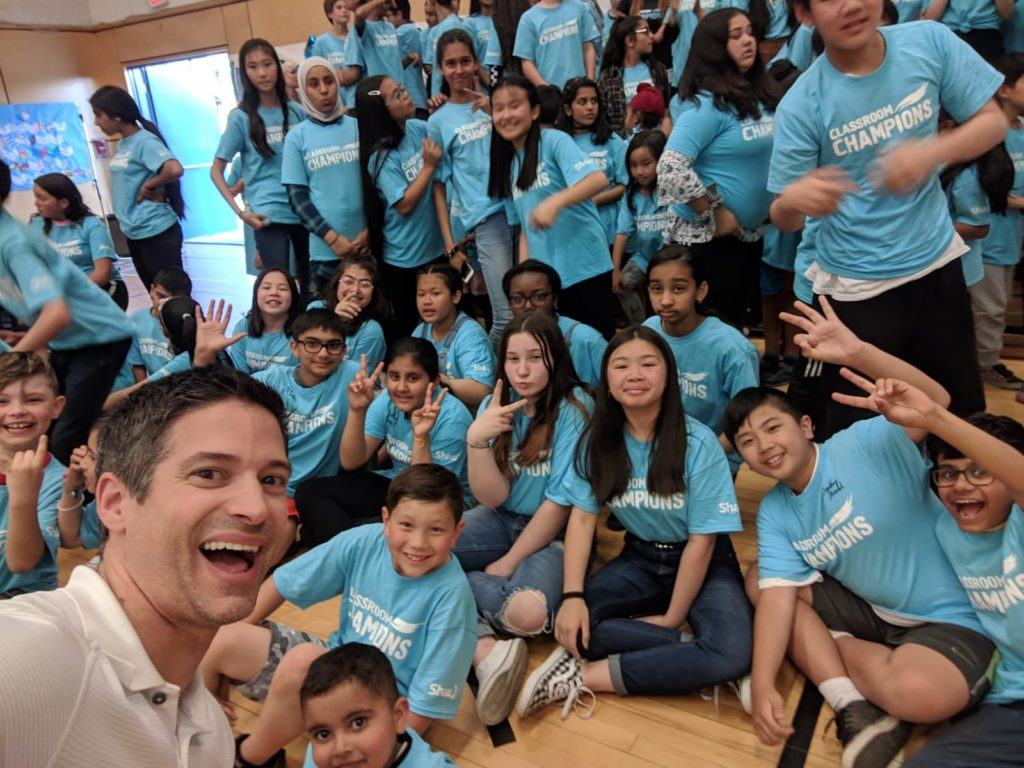 ---
When I talked to Steve about the idea, (other than being afraid of the actual physical workout itself!), he immediately saw opportunity in the concept of limbic friction as a powerful driver for teenagers. You see, Steve was one of the hardest working and most motivated athletes I've ever coached – and Steve's been looking to crack the code of where that came from within himself, so he can better pass it on to other athletes and kids through Classroom Champions ever since his gold medal back in 2010.
I asked Steve what he thought the potential within schools in underserved communities could be:
"I want to take the concept of limbic friction, and find a way to bring this into Classroom Champions' curriculum. This can give us a chance to dive deeper with teachers and experts – to teach teens that they have the ability to change the way their minds and bodies approach doing hard things."

Steve Mesler
Awesome!
In this year's #EmbraceTheSuck, we would like to find a way to support a couple of things that are close to our hearts.
Firstly, you might be familiar with the ALTIS Foundation – the Foundation we started as a result of the incredible support we received from our first Virtual Coach's Program. In June of last year, we were joined by over 1400 coaches, and raised over $120,000. Since our inception, it has been our mission to help create opportunities where they haven't historically existed, and so we decided to put the monies towards the establishment of scholarship funds at an Historically Black College — hoping in some modest way that we could help create an opportunity where it might not otherwise exist.
During this #EmbraceTheSuck period, I will be doing my best to continue to raise funds for the Foundation, and suggested to Steve that we do something similar with Classroom Champions.
Steve has pledged that with all funds raised, Classroom Champions will (1) bring programming scholarships to more elementary schools in school districts that serve communities of color across North America; and (2) focus on integrating 'limbic friction' into the next generation of Classroom Champions curriculum.
Pretty cool – right?
Dr. Andrew Huberman even pledged to help out in any way he can!
I'm excited for our community to support Classroom Champions to give students of color the tools that we believe sport can bring to kids to help fill the student pipeline for the ALTIS HBCU Scholarship Endowment at the same time. The power of sport is showing that positive impact within our schools as young as kindergarten can help shape the trajectory of black youth into adulthood.
Stay tuned for more details on this, as well as some ideas of how you can get involved!