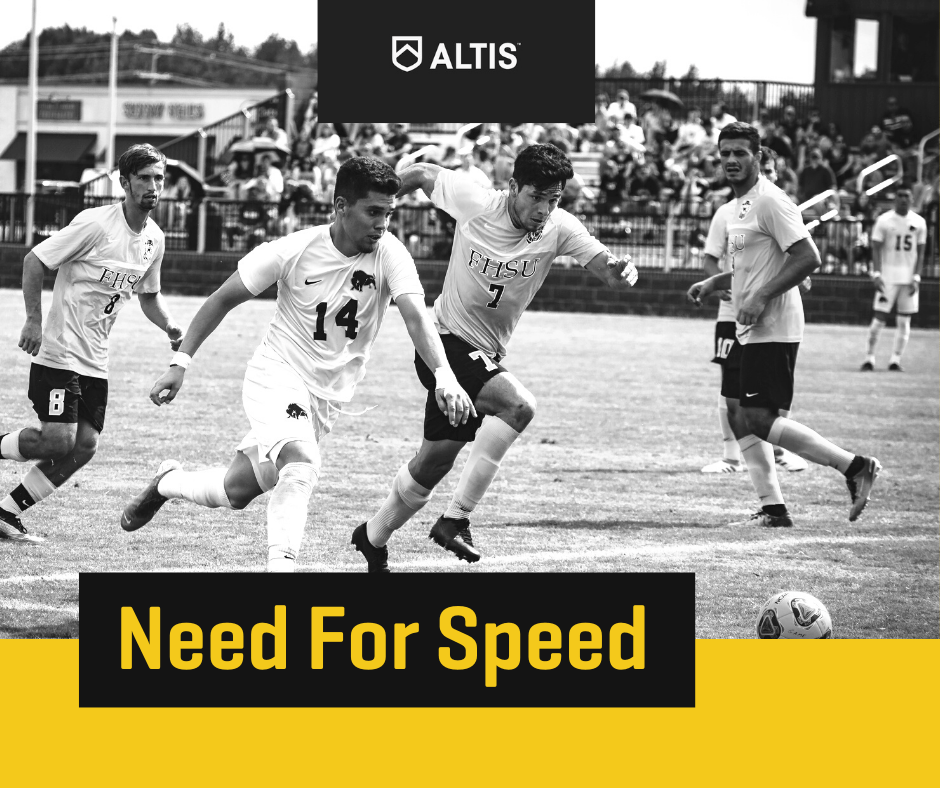 Every player has it - The Need for Speed
Speed is the ultimate game-changer: it is not merely present in all team sports, it is often crucial to the defining moments of the game — the moments that make the difference between defeat and victory. Never before has speed in team sport been more important than it is today, and never has it been more important for coaches to understand the complexities of coaching speed.
45 Hours of Guided Learning
Need for Speed provides a learning framework structured around three main digital 'Books', broken up into multiple 'Training Sessions' from which we share a journey of discovery on what speed is, why it is relevant to team-sports, and how we go about improving it. This journey integrates video, text, case studies, and practical examples from ALTIS staff and renowned expert contributors. This is all presented with time-signposted content to enable you to plan your learning effectively. To download a full course breakdown in pdf format, please click here.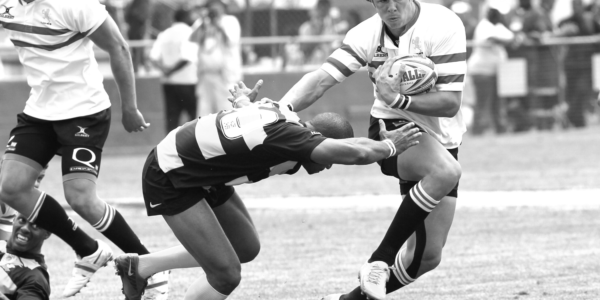 Need for Speed is a comprehensive NSCA Accredited digital course dedicated to the Science and Practice of speed in Team sports, providing over 45 hours of expert content, plus additional optional learning activities to structure your studies.
*Coupon code not valid for payment plan option.
ALTIS NEED FOR SPEED COURSE
Enroll in a Course designed to help coaches of all kinds.
Designed by experts in education and digital technologies, the ALTIS Need For Speed Course enables Coaches to access premium coaching education curriculum on any digital device, anywhere, anytime. With the ability to start where you last left off, you receive a guided education on your own terms. Our online education platform delivers 45 hours of engaging discussions, graphics, videos, and learning activities that support your learning experience and encourage critical thinking.
This format allows you to:
Study online at your own pace
Follow our structured learning approach, or take your own route
Refer back to content at leisure with lifelong access to the course
Learners on this course will be supported throughout their journey by our dedicated Course Facilitator - Nick Ward - who is on hand to answer questions and provide guidance via the ALTIS AGORA - our private Facebook group.
Upon completion of this Course, you will understand the relevance of speed to team-sports; construct a framework of speed and all its constituent parts; and be able to apply this knowledge in practice - immediately.
In short, you will understand WHAT speed is, WHY it is important, and HOW to develop it in a team sport setting.
Importantly, this course will also help you see the bigger picture with regards to where speed fits into successful athletes and teams. This is a perspective Need for Speed compellingly supplies, and it is this outlook that allows you to serve your community in the most-effective way.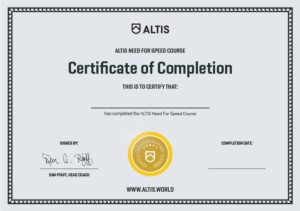 Upon completion of the course, you will be awarded with the ALTIS Need For Speed Certificate of Completion in recognition of your achievement.
This course is defined by three core Books to help you plan your study and practice.
BOOK 1 – What is Speed?
BOOK 2 – Why is Speed Important?
BOOK 3 – How do we Develop Speed?
Each Book is made up of a number of Sessions, which provide the core curriculum content, starting from the Session Brief and ending at the Session Debrief.
+ BONUS ACTIVITIES INCLUDED
Bonus optional learning activities designed to support your comprehension and depth of understanding are available throughout the course. These activities can be addressed at leisure, and on your own terms - enabling you to forge an individualized learning pathway that meets your specific needs and time availability. These include:
'Pro Tips' from industry experts

Coach Pfaff's 'Myth Busters'

'Deeper Dives' into selected topics

Collaborative 'Team Talk' activities

Personal Development Plan Tasks

'Skills Practice' activities where you will learn

by doing

Debrief activities at the end of each session

An optional Multiple Choice Quiz at the end of each Book

Research Reviews on some of the most relevant of today's sports science content relating to speed
Need for Speed is authored by Coaches Stuart McMillan and Dan Pfaff, plus ALTIS staff with over 150 years of cumulative coaching experience. This team of experts have worked with over 100 Olympians who are in possession of 40 Olympic medals, and currently consult with dozens of professional teams in numerous leagues around the world: It is this very same experience and expertise that forms the basis of the course content.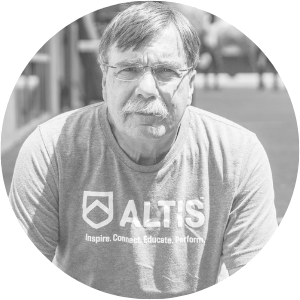 Dan Pfaff, Author
Coach Pfaff is a globally recognized expert in the field of coaching & coach education. With over 40 years coaching across multiple T&F disciplines, Dan has led 49 Olympians to 9 medals and has lectured in 27 countries across multiple sports.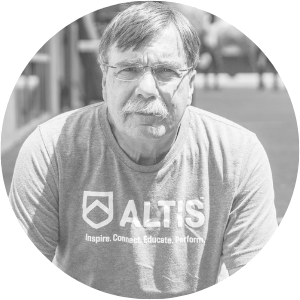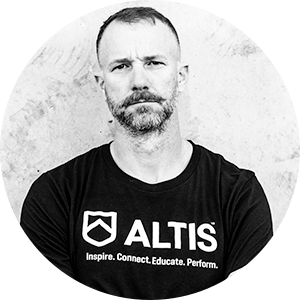 Stuart McMillan, Author
Currently in his 26th year of professional coaching, Coach McMillan is CEO at ALTIS. Stuart has worked with professional and amateur athletes in a variety of sports with a focus on power and speed development, and has personally coached 70 Olympians at 7 Olympic Games; 35 of whom have won Olympic medals.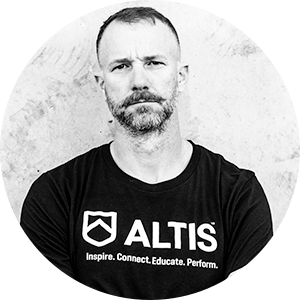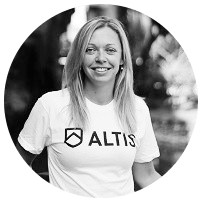 Ellie Spain, Editor
Ellie is a former GB International Pole Vaulter, with a MSc in Strength & Conditioning and BA in English. Before joining ALTIS as Education Director, she spent over a decade working in Further Education and as National Coach Mentor in the Pole Vault for England Athletics. A coach since 2009, Ellie has coached multiple youth champions and international performers in the Pole Vault, and is founder of the successful London-based club, West London Track & Field.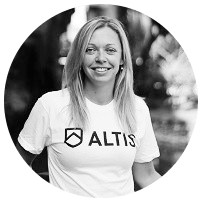 Along with:
Also incorporated are feature interviews and commentaries from a selection of expert contributors working in the field of speed and sports science. These guests include: Alex Natera, Cam Josse, Carlin Isles, Darren Burgess, Dave Collins, Derek Evely, Ed Cosner, Fergus Connolly, Ian Jeffreys, Ian McKeown, Ivi Casagrande, James Wild, JB Morin, John Kiely, Jon Goodwin, Dr. Ken Clark, Les Spellman, Dr. Nick Winkelman, Pete Atkinson, Richard Clarke, Rob Gray, Shawn Myszka, Dr. Sophia Nimphius, Steffan Jones, Steve Kerr, Steve Norris and Tom Tombleson. AGORA Facebook Community
Gain access to the ALTIS AGORA Council, a private Facebook community providing exclusive video content and live streams, as well as a forum for discussion, collaboration, and networking for coaches across the globe.
The Need for Speed Course is geared toward S&C / Fitness Coaches who focus specifically on Team Sports, while the Foundation & Essentials Courses are general courses for all Coaches. Need for Speed first asks the question 'what speed is in relation to team sports?' - as it is defined very differently from simple track and field linear speed. Secondly, it describes why it is important to team sports - with in-depth review of biomechanics and motor learning as it relates to the chaos of team sports specifically. And finally, it shares how we develop speed with the team sports that we consult with - taking a first principles approach that can be applied by all coaches - without any prior sprint expertise, per se.
"With so many questions being asked about how to develop effective, usable speed qualities in team sport athletes, no other resource out there is quite as holistic in answering these questions as the ALTIS Need for Speed Course. From taking a global philosophical perspective to fine-tuning the details of practicality, this course absolutely knocks it out of the park. I passionately recommend it for anyone willing to take the dive down the rabbit hole of team sport speed development!"
Cam Josse
Athletic Performance Coach Indiana University