ALTIS FOUNDATION COURSE
Enroll  in a Course designed to help all coaches of all sports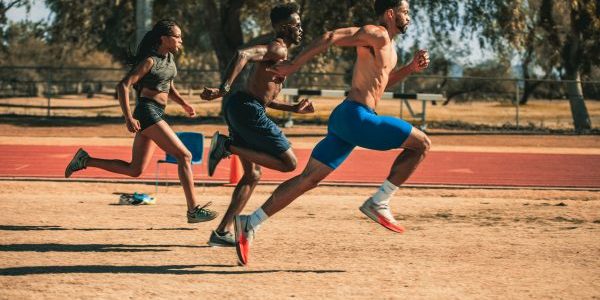 ALTIS Foundation Course Pre-Sale
The Foundation Course is currently closed. Sign up to the pre-sale list to be notified about when it re-opens.
Become A Better Coach
Gain online access to 12 modules of bespoke content designed to:
Develop Your Understanding
Join Coach Pfaff as he explains what you can expect
Designed by experts in education and digital technologies, the Foundation Course enables Coaches to access premium coaching education curriculum on any digital device, anywhere, anytime. With the ability to start where you last left off, you receive a guided education on your own terms. Our online platform delivers 12 modules of engaging discussions, graphics, videos; plus learning checkpoints that support your comprehension and encourage critical thinking.
This format allows you to:
Study online at your own pace
Take the online learning checks when you are ready
Refer back to content at leisure with lifelong access to the course
---
For a full breakdown of the sections contained in each module, please click here.
You will develop a holistic understanding of the key theories, themes, and discussions on the 12 core topics covered by the ALTIS Foundation Course.
You will demonstrate to employers, potential employers, and stakeholders that you are a forward thinking, evolving coach who has taken control of your own development.
NSCA Accredited Coaches are also eligible to claim 2.0 CEU's in Category D upon successful completion of the course.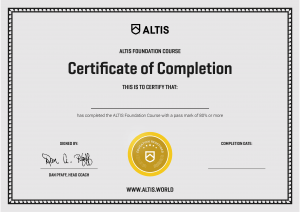 Upon successful completion of the course, you will be awarded with the ALTIS Foundation Course Certificate of Completion in recognition of your achievement.
1 Biomechanical Concepts
2 Applied Physiology
3 Functional Anatomy & Kinesiology
4 Training Methodology
5 Planning & Organization
6 Progressions
7 Cueing
8 Athlete Management
9  Strength Development Fundamentals
10 Strength Exercise Inventory
11 Speed Development Fundamentals
12 Speed Exercise Inventory
Written by PJ Vazel, Derek Evely, Dr Matt Jordan, Stuart McMillan, Andreas Behm, and legendary coach and educator Dan Pfaff, the Foundation Course shares the collective knowledge of some of the most experienced minds in the coaching profession today.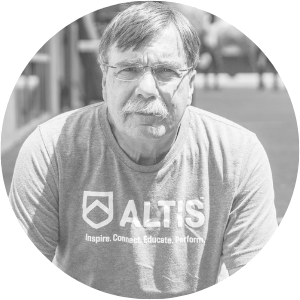 Dan Pfaff, Author
Coach Pfaff is a globally recognized expert in the field of coaching & coach education. With over 40 years coaching across multiple T&F disciplines, Dan has led 49 Olympians to 9 medals and has lectured in 27 countries across multiple sports.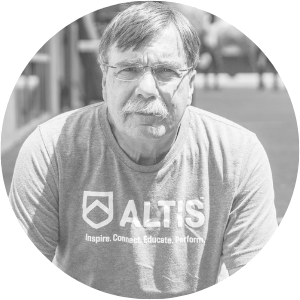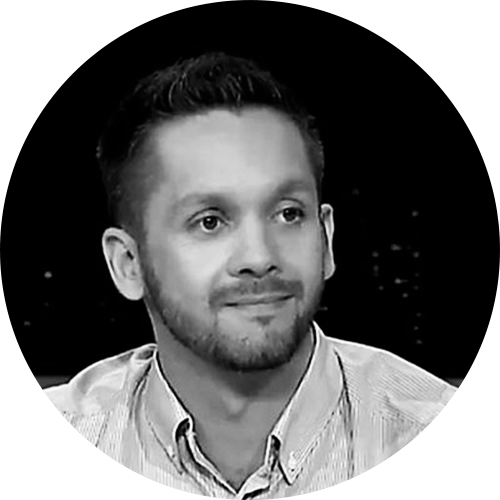 PJ Vazel, Author
A coach since 2004, PJ Vazel is recognized worldwide for being one of the brightest young professionals in sport research and statistics. In addition to coaching, he is a freelance writer specializing in the history and science of athletics performance.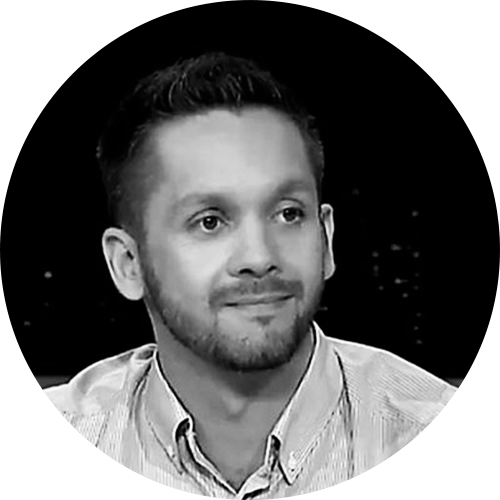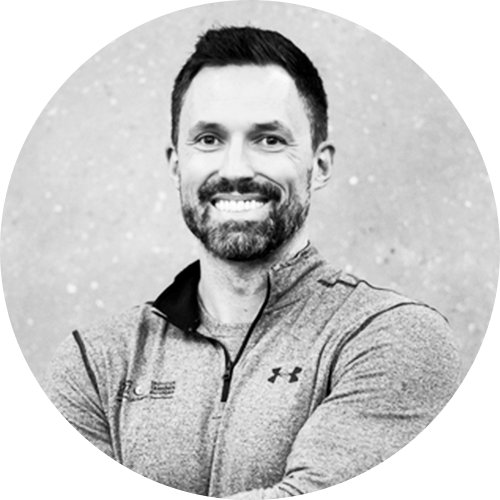 Dr. Matt Jordan, Author
Dr. Matt Jordan is a highly regarded coach, speaker, and educator, who holds a PhD in Medical Science and a Masters in Exercise Physiology. He has authored and co-authored several peer reviewed articles and regularly presents at scientific conferences. To date, he has been the personal strength coach to 30 World and Olympic medalists, and has worked with elite athletes in many sports.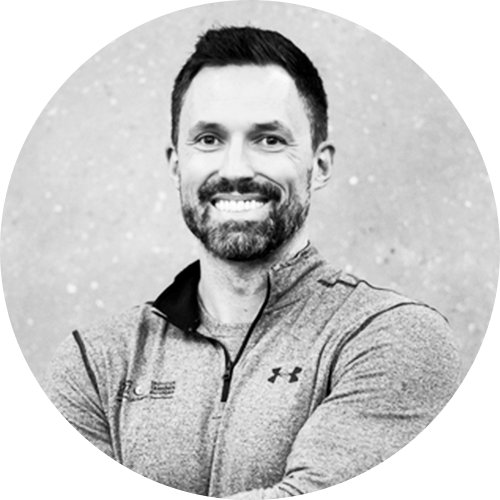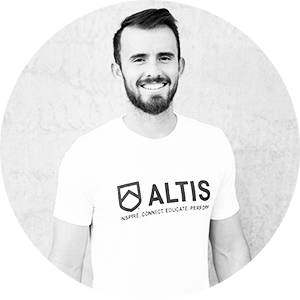 Jason Hettler, Author
In post as Strength & Power Coach at ALTIS since 2014, Jason works across athletes from all event disciplines. He also leads the expansion of both athlete and coach development across a variety of professional sports. Prior to joining ALTIS, Jason completed his B.S. in Exercise Science and worked primarily with NCAA D1 athletes.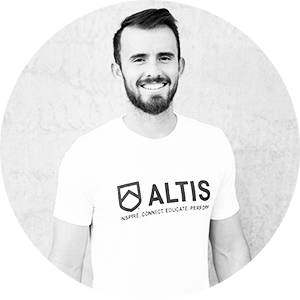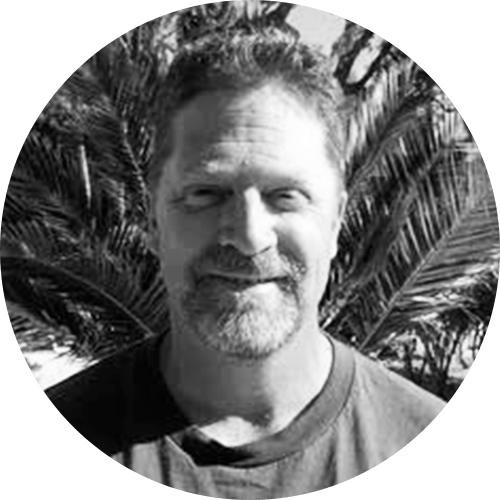 Derek Evely, Author
Hailed as a leading mind on training methodology, Coach Evely has accrued decades of experience working in T&F roles across multiple disciplines. He has also consulted in speed skating, hockey, and worked with various national multi-sport training centers in Canada. Derek has been team staff at 4 World Championships, 1 Olympic Games & the European Championships, among others.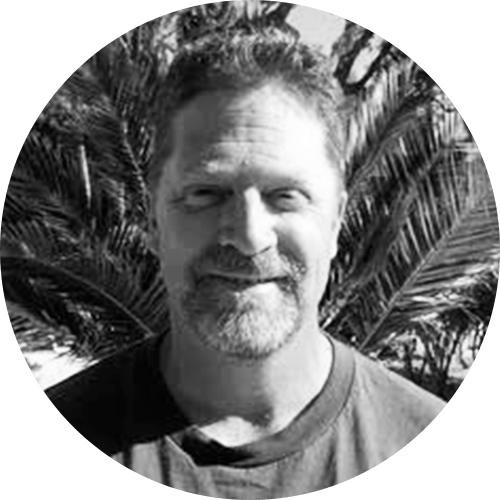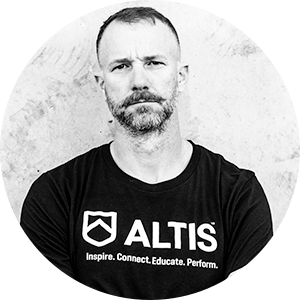 Stuart McMillan, Author
Currently in his 21st year of professional coaching, Coach McMillan is CEO at ALTIS. Stuart has worked with professional and amateur athletes in a variety of sports with a focus on power and speed development, and has personally coached 60 Olympians at 6 Olympic Games; 30 of whom have won Olympic medals.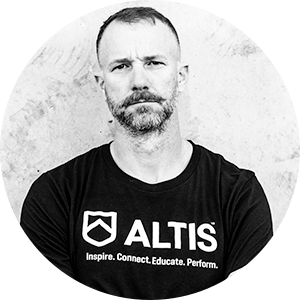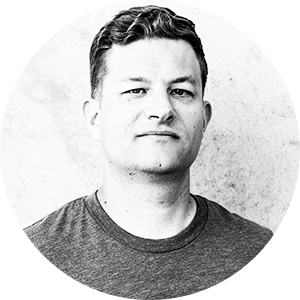 Andreas Behm, Author
Coach Behm, VP of Performance at ALTIS, is best known as the Coach of Aries Merrit who – under his tutelage – won Olympic Gold at London 2012 in the 110mH. Later that same year Aries went on to shatter the existing 110 h World Record with a time of 12.80 seconds. Several other athletes coached by Andreas have also qualified for the past two Olympic Games, and past three World Championships.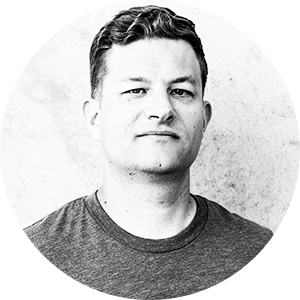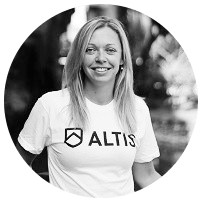 Ellie Spain, Editor
Ellie is a former GB International Pole Vaulter, with a MSc in Strength & Conditioning and BA in English. Before joining ALTIS as Education Director, she spent over a decade working in Further Education and as National Coach Mentor in the Pole Vault for England Athletics. A coach since 2009, Ellie has coached multiple youth champions and international performers in the Pole Vault, and is founder of the successful London-based club, West London Track & Field.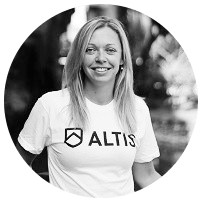 Along with:
Dr Angus Ross, Martin Bingisser, Dr Ken Clarke, Brett Bartholomew, Greg Hull, Jason Hettler, Shawn Myszka, Vince Anderson, Dr. Jas Randhawa AGORA Facebook Community
Gain access to the ALTIS AGORA Council, a private Facebook community providing exclusive video content and live streams, as well as a forum for discussion, collaboration, and networking for coaches across the globe.
No, you can choose to enroll at any time you like, and complete the course according to whatever timeline suits you. There is no time limit for completion, and you can study at your own pace.
Hear The Review
A few words from Dr. Kelly Starrett from The Ready State on the ALTIS Foundation Course. 
"This is a great online source for coaches at every level. A scientific approach that takes you from the early stages and beyond. For those interested in the science behind all phases of performance and not just strength and conditioning. I encourage you to definitely add this to your continuing education program. I personally enjoyed the content from external videos, journals, and additional readings to help tie in the global thoughts from well respected coaches in the community. The fact you get quizzes after each section helps affirm the knowledge and challenges you to critically think and apply the information covered. I look forward to the next phase!" Paul Beckwith | Director of Sports Performance at APEX Athletics, USA
"Don't know anyone in the world that delivers the quality coaching content that ALTIS delivers consistently."
Jorge Carvajal | Elite performance coach and consultant
"I successfully completed the ALTIS Foundation Course today, which I have to say, completely exceeded my expectations. So much great content, from great coaches, that I will be reading and watching again and again as my own coaching practice develops. I'm really looking forward to the journey that the athletes and I are on, and how this knowledge will help direct us."
Mike Fountain | Event Group Coach for Sprints, Northern Ireland
"Any coach looking to be better needs this tool in their toolbox. The ALTIS team heat a grand slam with this project."
LeCharles Bentley | Lead offensive lineman performance coach, Nike