You will remember that late last year, we announced that we would be giving our prized 1080 away.
Yes – giving it away!
And no – we are not crazy!
We simply thought that it would be a pretty cool thing to reward an awesome group with technology that they might not be able to afford otherwise. The 1080 is an amazing and powerful piece of equipment, and like many amazing technologies, it is a little out of the price point of many in the sport performance community.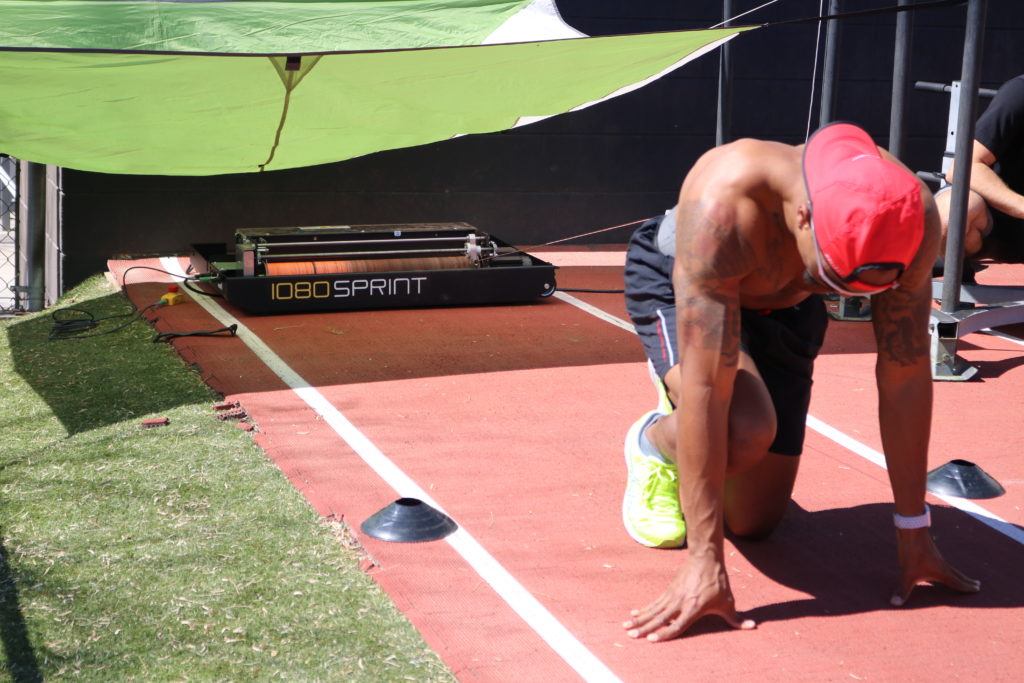 So – with the support of 1080 – we decided to purchase another machine, and give our 3 year old one away to one lucky group!
All we asked for is for those who were interested to send in a cool and creative video explaining why they wanted it, what they would do with it, and how it would benefit their athletes.
We had over 100 applicants – and in December, we narrowed it down to the top 10. You can check out the top 10 here.
Who do you think should have won?
We are super-appreciative of the efforts of all who sent in videos, and were really happy to see how creative everyone was!
Our judges (Olympic medalists Kaillie Humphries and Aries Merritt, LA Kings S&C Coach Matt Price, ALTIS Foundation Chair, Duncan Mathieson, and 1080 Motion President, Peter Holmertz) then voted on their favorite, and we are excited to announce that Daniel Valenzuela, the Technical Director at Athletic Club Ciclon in Bolivia, is the winner!
"We are very happy to have won this award, the 1080 Sprint will be a very valuable tool for our athletes. We want to thank the panel of judges, ALTIS and 1080 Motion for granting us this honor. We are not going to disappoint you — we hope very soon we will be sharing the results of our work with it"

Daniel Valenzuela
ALTIS President, Kevin Tyler – who spearheaded this project – had the following to say:
"In conjunction with our partner, 1080 Motion, ALTIS is excited to award our 1080 Sprint to the team from Bolivia. The 1080 Sprint has been a game changer at ALTIS, and our desire to gift this to another high performance training environment flows from our philosophy of supporting athletes and coaches at home and abroad. We thank the 100 plus teams that submitted video entries — this level of engagement reflects the value coaches place on the 1080 Sprint technology, and it's ease of use in the daily coaching environment. We know Coach Valenzuela and his team of coaches and athletes will benefit from the 1080 and will be eager to share their results with coaches all around the world."
1080 Motion CEO Anna-Carin Månsson, also wanted to congratulate Daniel and his team:
"Well-deserved congratulations to Ciclon Atletismo on winning the 1080 Sprint from ALTIS! Coupled with high quality imagery, the video contribution made a great case for how 1080 Motion's technology will benefit training and research on elite athletes in Bolivia and regionally. We are proud to support this project and look forward to an exciting collaboration ahead."

Anna-Carin Månsson
Thanks again to everyone who sent in a video, or shared any on their social media channels. We look forward to some great work from Daniel and his group in Bolivia, and will be sure to keep everyone updated!
Interested in how we use the 1080 at ALTIS? Our Strength & Power Coach, Jason Hettler, wrote an awesome 3-part series of articles on resisted acceleration training. You can check it out here, here, and here.
For more information on the 1080 Sprint, and any other 1080 Motion, products, please check out their website, and-or contact Peter Holmertz, President 1080 Motion, North America. Ph: +1 (512) 658-1112, peter@1080motion.com