Strength and Conditioning is about much more than just force outputs and fitness tests targeting high performance.
This was the topic of discussion when Dave Hembrough joined Jason Hettler for a recent ALTIS podcast episode.
In the early stages of Dave's career he found himself working with a variety of athletes at the Olympic, Commonwealth, and World Championship levels. This included sports such as rugby, table tennis, golf, boxing and downhill mountain biking.
While Dave speaks very highly of these experiences, after 5-6 years he realized he was looking for more.
Currently working as a Sport Scientist at Sheffield Hallam University and as founder and of the Hallam Barbell Club, Dave has the platform to target true, lasting change. He has aligned the club with government-led initiatives from British Weightlifting (which include individual and social development as well as a focus on mental health) as well as with Sheffield City Council health and well-being strategic themes.
The Hallam Barbell Club follows a 'Life Course' progression from young to old with the key themes being:
– Starting & Developing Well
– Living & Working Well
– Ageing & Dying Well
Within this framework, programs include youth strength & fitness, strength training for women, by women, integrated mindfulness, and of course the Olympic Weightlifting Club.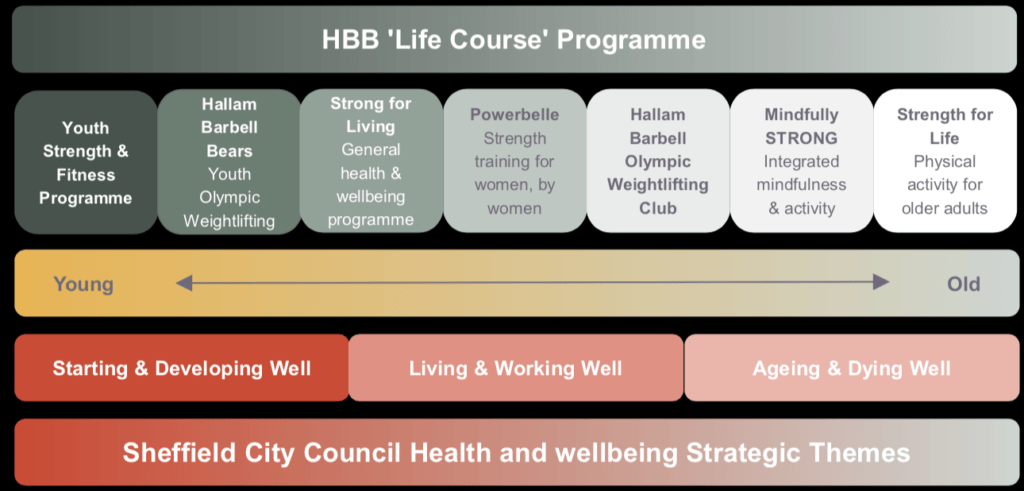 Along these lines, Dave shared some resources for those interested in learning more about the developmental impact sport can have.
First, the Sport for Development (S4D) website offers a resource toolkit that includes various topic collections such as sport and education, sport for inclusion, and sport for violence prevention.
The S4D Essentials kit covers teaching and learning materials, monitoring and evaluation activities, and much more. Lastly, the Tools for your Practice section offers content organization based on the tasks, working areas, or phases you are involved in or need support with.
For those looking for a more formalized venture into the topic, www.futurelearn.com features a free course titled, Sport for Sustainable Development: Designing Effective Policies and Programs. This 4-week course allows students to explore the benefits and limitations of using sport in development. They will learn to design, implement, and measure the impact all while being exposed to key concepts relating to sport and equality, social inclusion, and more.
The podcast episode ends with Dave sharing his personal Purpose Statement, his take on Facebook founder, Mark Zuckerberg's motto, "Move fast and break things" and his answer to, "What does sport/competition mean to you?".
You can listen to the full episode here.