As the days get longer and the mercury rises in Arizona, we took the time to sit down and look back on what has been a phenomenal winter & start to 2014 for Altis – one which has seen our athletes bring home 3 Olympic Medals, 1 World Indoor Championship Medal, post 6 National Records and set 9 Personal Records.
Winter Olympics
The Sochi Olympics were a resounding successes for our winter sport athletes training under the guidance of Altis Performance Director and USA Start Coach – Stu McMillan. The Games saw Canadian Kaille Humphires (with Heather Moyse) claim Gold and make history in the two women Bobsled – becoming the first women bobsledders to repeat as Olympic Champions. Americans Elana Meyers and Lauryn Williams followed the Canadian duo claiming the silver. Compatriot Katie Uhlaender came 4th in the women's Skeleton – narrowly missing out on a bronze medal by 4/100ths.
"Stuart McMillan's coaching with USA Bobsled at the Olympic Games in Sochi is a particular source of pride for Altis." CEO John Godina said "Stu did what Stu does … produce. Having him as part of the Altis family is a cornerstone to our overall foundation of success."
In addition to Altis medals, the USA Bobsled Federation (a Altis partner) came off its most successful season in history. The World Cup season saw a sum total of 38 medals being claimed en route to unprecedented success for Team USA at the Games where a medal was won in all disciplines – including Matt Antoine's Bronze in men's Skeleton; Noelle Pikus Pace's Silver in the women's Skeleton; Steve Holcomb's Bronze in both 2 man and 4 man Bobsled; Elana Meyers' Silver in women's Bobsled, and Jamie Greubel's Bronze in women's Bobsled.
"Altis is proud to work with so many successful and dedicated people"

John Godina
Commenting on the role played by McMillan in the USA successes, US Skeleton Team Head Coach Tuffy Latour said: "Stu was a very important addition to our team this season. Prior to his arrival our athletes were lacking the technical side at the skeleton start. Stu worked tirelessly to correct the athlete's technique. Matt Antoine, in particular, asked Stu to take him out of his comfort zone and make him better at the start. Stu not only helped him with the technique but shaved over .10 off of his start time, which in turn helped him win an Olympic Bronze medal. Stu's attention to detail, hard work and professionalism helped the U.S. Olympic Skeleton team have its best Olympics since 2002 … Thanks Stu and thank you to Altis."
World Indoor Championships
Altis Alum Thomas Van Der Plaetsen set a New National Record en route to claiming Bronze in the Heptathlon at the IAAF World Indoor Championships in Sopot, success which builds on his Gold in the World University Games in Russia last summer. The Belgian has spent extended periods in Phoenix during his preparations.
National Records
Christabel Nettey broke the Canadian indoor long jump record in Albuquerque, New Mexico, with 6.62 metres – exceeding the former Canadian indoor National record set by Tabia Charles in 2010 in Ithaca, New York, by two centimetres.
Korea's Tae-Kyong Park and Hye Lim Jung smashed the men's and women's indoor 60m Hurdles record with runs of 7.81 PR & NR and 8.37 PR & NR. Later in the month, the duo backed up these record breaking performances to once again set new National Records, exceeding their own marks with runs of 7.78s and 8.32s respectively.
Belgian Combined Eventer Thomas Van der Plaetsen rounded off the record breaking performances, posting his National Record in combination with the aforementioned medal winning mark of 6259 points in Sopot.
Personal Records
High Jump: 2013 World Youth Champion Sanghyuk Woo (Korea) set a PR of 2.21m
Shot Put: Rashad Williams set a PR of 17.28m (USA)
60 Hurdles: Lindsay Lindley (USA) set a PR of 8.13s
60 Hurdles: Hye Lim Jung (Korea) ran an early season PR of 8.37s backed up by a 8.32 PR at a later meet.
60 Hurdles: Tae-Kyong Park (Korea) also ran two PR's 7.81s backed up by a later season run of 7.78s
60 Hurdles: Byoungjun Kim set a 7.86 PR (Korea)
Long Jump: Christabel Nettey set a PR of 6.62m (Canada)
Indoor Heptathlon: Thomas Van Der Plaetsen (Belgium) set a PR of 6259
Shot Put: Orazio Cremona (South Africa) set an indoor PR of 20.49m at the World Indoor Championships in Sopot which was good enough for 7th place – a mark just short of his outdoor PR of 20.55m.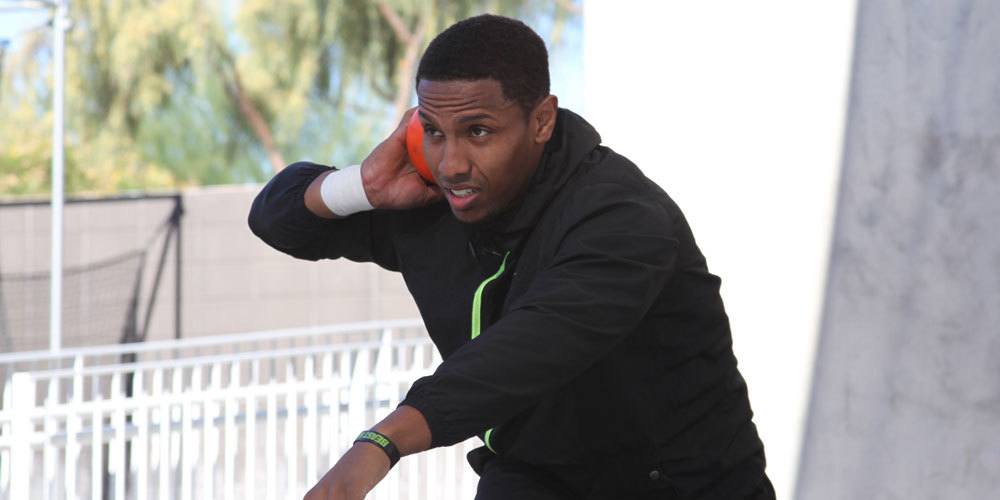 Reflecting on the performances over the last month, CEO John Godina said: "This Winter season was a great display of competitive success by our athletes. Altis is proud to work with so many successful and dedicated people and we are truly thankful that Altis is accomplishing its primary goal … to help athletes succeed … as The World Athletics Center transitions into the Spring season, we realize that the Winter was just the preface to our 2014 outdoor season. We look forward to helping our athletes prepare for success, and – as always – we strive to help them seek out even greater levels of performance through the Spring and Summer."