The latest Athletigen ACP Podcast is now available, featuring a fascinating discussion between Dr Andrew Huberman, Brian MacKenzie, and Rob Wilson on Fear and Anxiety in Sport.
Providing an insightful preview into some of the topics set to be addressed when the trio present on the February edition of the ACP, listeners of 'The Fear Factor' podcast will enjoy an hour of discussion on topics including:
The mechanisms underlying fear and anxiety.
Fear as a physiological state.
Defining physical manifestations of anxiety and fear, and their causes.
How the visual system contributes to adaptively countering fear.
The regulation of fear and anxiety through individualized breathing protocols, based on a CO2 Tolerance and Emotional Reactivity Test.
How these individual breathing protocols impact an individual's state.
Progressional exposure approaches to dealing with fear and self imposed barriers
Current and emerging technologies which can aid athletes who find anxiety hinders their competitive performance.
Gender and the individual regulation of fear and anxiety.
Practical steps for coaches to help athletes regulate anxiety and fear.
Listen using the tool below, or hop over to itunes to download the podcast in full.
In addition to Dr Huberman, Rob Wilson & Brian MacKenzie, the February ACP will also see guest presenters Ryan Banta and Mark Verstegen join the impressive line up of speakers. Don't miss out – join the discussion and register here!
February ACP Guest Presenters:
Dr Andrew Huberman
Dr Andrew Huberman is Co-Founder & Scientific Director, at State, and is a tenured Associate Professor of Neurobiology and of Ophthalmology at Stanford University School of Medicine. As Co-Founder and Scientific Director for State LLC, Andrew plays a pivotal role in the development and testing of science-based breathing and vision based protocols to optimize physical, emotional, and cognitive performance and health. Dr Huberman has more than 2 decades of research on how the brain works, how it develops and how it can be repaired after injury- both through regeneration and compensatory plasticity. A major focus of The Huberman Lab is also to test and develop strategies for optimizing human performance, especially in high stress environments. His lab's work spans from animal models to humans, and from laboratory basic research to clinical trials.
Dr. Huberman obtained his Ph.D. in Neuroscience from the University of California in 2004 and completed his postdoctoral fellowship at Stanford School of Medicine from 2005-2010. He has authored over 50 peer reviewed research articles and invited review articles in top journals including Nature, Science, Cell, Neuron, and the Journal of Neuroscience. In addition, his work has been covered extensively in the popular press, including major coverage in TIME, Scientific
Brian MacKenzie

Brian MacKenzie is Co-Founder and Director of Development for State LLC, and is an expert in the development and application of custom protocols to optimize human health and performance. His work harnesses and integrates respiratory, movement, strength and endurance-based training approaches to elicit unprecedented positive results. His protocols have been used to accelerate and raise both mental and physical performance in world-class Olympic and professional athletes, top executives, and elite military operators, as well as to improve the health for people suffering from various chronic illnesses.
Everyday people have also used Brian's tools to reduce pathologic stress and to vastly heighten their mental and physical wellbeing and performance. A highly unique feature of Brian's approach is that he voluntarily and repeatedly subjects his protocols to rigorous 3rd party scientific testing, re-testing and improvement, at top institutions including Stanford University School of Medicine, Florida A&M University and The Center for Sports Performance. Few, if any, experts directly seek to apply unbiased laboratory and field testing to their craft as Mackenzie does.
Brian is himself a highly accomplished athlete. He completed the Ironman (Canada, 2004), completed both the The Western States 100 mile and The Angeles Crest 100 mile runs using adapted training protocols he developed to prevent injury and fatigue. Also prolific writer, Brian co-authored the book Power Speed Endurance, The New York Times Best Seller UnBreakable Runner, and UnPlugged, which assesses the integration of emergent technology and human performance. His programs have been featured in Outside Magazine, Men's Health, Runners World, Triathlete Magazine, Men's Journal, ESPN Rise, as well as periodicals such as The Economist. Brian and his protocols have been featured in 4 of Timothy Ferriss' New York Times bestselling books including: "The 4-Hour Body" and "Tools of Titans". Brian MacKenzie's programs have been taught at more than 400 seminars worldwide and are used by thousands of athletes ranging from beginners to elite medalists and record holders via his "Power, Speed, Endurance" platform and by private consultation.
As Co-Founder and Director of Development for State LLC , Brian plays a pivotal role in the development and testing of science based breathing and vision based protocols to optimize physical, emotional and cognitive performance and health.
Rob Wilson
Rob Wilson – Co-Founder of The Art of Breath – comes from a formal education in manual therapy with 15+ years of experience as both a practitioner and teacher. He resides in Virginia Beach, VA with his wife Thomi where they have owned and operated CrossFit Virginia Beach since 2006.
In the past decade and a half Rob has had the good fortune to work with an enormous variety of athletes ranging from amatuer, nationally and internationally ranked athletes in everything from power lifting and sailboat racing, to individuals in the US Naval Special Warfare Program. Rob truly enjoys working with the tactical communities of the U.S. Armed Forces.  Over the course of his career he has had the honor to help serve many active duty service members and veterans, through both his private human performance consultation work, and through groups like the Resiliency Project – which seek to further the resources available to military groups.
Prior to creating the Art of Breath series with Brian Mackenzie, Rob was an original member of the world renowned MobilityWod staff under the direction of Dr. Kelly Starrett. Dr. Starrett and MobilityWOD was influential in Rob's development as a professional in the human performance sector.
Rob is a passionate teacher to the core. Throughout the course of his career as a manual therapist and coach one thing became abundantly clear; it's better to teach a person to fish. Without education athletes are left to unknowingly repeat patterns of behavior that may not be pursuant to the actual desired outcome. That is to say the best remedy is often learning. Rob's journey is about developing a deeper understanding of human performance to better serve those who wish to actualize their potential.
Rob's underpinning philosophy is borrowed from the tenets of Jeet Kune Do:
Research your own experience
Absorb what is useful
Reject what is useless
Add what is specifically your own
Ryan Banta
Ryan Banta is the current President of the Missouri Track and Cross Country Coach's Association, is the author of The epic "Sprinter's Compendium", and has earned numerous certifications, including USATF level II in sprints, hurdles, and relay, as well as endurance and USTFCCCA technical certification. He also regularly blogs for SpeedEndurance.com, JustFlySports.com, EliteTrack.com, and has even been invited to the Olympic Training Center in the US as an emerging elite coach. While all of that is great, Coach Banta is passionate about developing athletes and has been doing so since 2003. With over 90 school records, 2 state records, over 40 all-state performances, 10 state champs, 14 nationally ranked events, numerous District, Conference, and top ranked State Championship seasons under his belt, Coach Banta knows a thing or two about developing greatness in developmental athletes. He's neck deep in high school track in Missouri, having an influence nationally and internationally, and lays out a lot in this interview.
Mark Verstagen
Mark Verstegen is recognized as one of the world's most innovative human performance experts. Verstegen pioneered the concept of integrated performance training and has brought that system to the world's top athletes, teams, and sports organizations; the United States military; and leading companies, such as Intel, Walgreens, LinkedIn, and Sheraton Hotels and Resorts. As the founder and president of EXOS, formerly Athletes' Performance and Core Performance, Verstegen leads more than five hundred employees at the company's performance centers in Arizona, California, Florida, and Texas, as well as supplying international support to top athletes and organizations.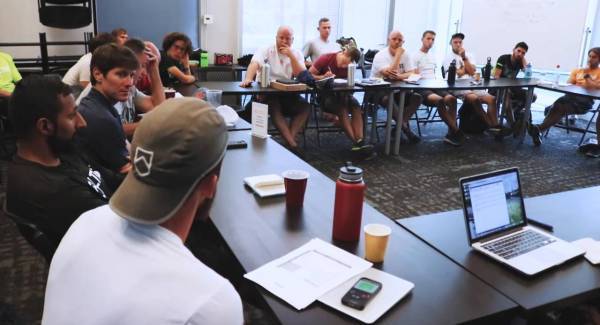 Click here to secure your place on the February edition of the ALTIS ACP.