Hailing from Illinois, Jeff Boele spent his formative years in the Chicago suburbs, followed by 9 years in the southern part of the state near St. Louis. In 2005 he moved with his wife to Boulder, CO. The 36 year old English Education Graduate has now been coaching for 15 years in a variety of capacities, most recently Lyon High School, CO, where he has been coaching since 2010.
After a week spent at Altis attending the January Apprentice Coach Program, we spent some time with Coach Boele to talk around the subject of coaching of High School aged athletes, and his experiences in this realm.
Jeff – thanks for joining us. Could you start by briefly describing your sporting background; were you a competitor?
I started participating in Cross Country and Track & Field in 6th grade (age 11) for my school, then continued through high school and college with the endurance events. Later on, it was very difficult to work 60-90 hours a week as a college coach and run 60-90 miles a week. I was able to improve for a few years and eventually moved up in distance in hopes of hitting an Olympic trials qualifier in the marathon. After several HORRIBLE attempts at the distance, I retired from competition in 2010 – conveniently when our first child was born!
What is your current coaching environment?
I coach at Lyons High School in Lyons, Colorado (about 15 minutes north of Boulder) where I work mainly with 14-18 year olds. However, I do work with a few of the middle school athletes (11-13) in the preseason. Remotely, I also work with a handful of adults; through trainingpeaks.com – all of whom are endurance athletes training for 1/2 marathons and marathons.
In terms of event groups – my event focus depends on the time of year. During the scholastic Track & Field season (March-May) I work with endurance and jumps. In the preseason (December-February) I work with all event groups. For the past 3 years I have also handled programming for all event groups, with the event group coaches then implementing the technical work and fine-tuning on a daily basis.
How would you describe your coaching philosophy?
It's maybe too cliché to say that sport is a metaphor for life, but I think there's a lot of truth there; especially with the high school kids. One of my key themes is the development of good habits: By first and foremost instilling good habits – such as being on time – I think we have impact which reaches way beyond the track. Likewise, by setting goals AND demanding follow through, we are giving them the tools to help themselves improve; whether that's in the classroom – or what I get to deal with on a daily basis trackside.
"It's maybe too cliché to say that sport is a metaphor for life, but I think there's a lot of truth there; especially with the high school kids"
I do think that developing a coaching philosophy is an evolutionary process. For me though – as said – the development of good habits, in my view, is a foundational tenet in enabling long term improvement, and is something I strongly address in my work with the athletes I coach.

Who have been the biggest influences on your development as a coach?
A Head Coach I worked for at a small college – Greenville College in Illinois – had a strong influence on me. He had never had an assistant before, so it was a lot of learning together. His comment was always – "you just need to be able to read my mind!" Whilst that's never going to be an effective method, I can say he was exceptional at relational skills: That was a really good thing to learn early on in coaching, and made me very self-aware in terms of how I interact with athletes.
Since then – with some big life changes that have happened; and also from meeting coaches at Altis, there has since been an exponential shift in my learning. The aspect of a mentor was never presented to me early on in coaching: In that realm I had a lot of fear. I felt that if I asked someone for help it was going to hurt my credibility as a coach; so basically the last 14 years up until I went to the ACP in January 2015, I had basically been self-directing in terms of reading and finding my own way – not really reaching out.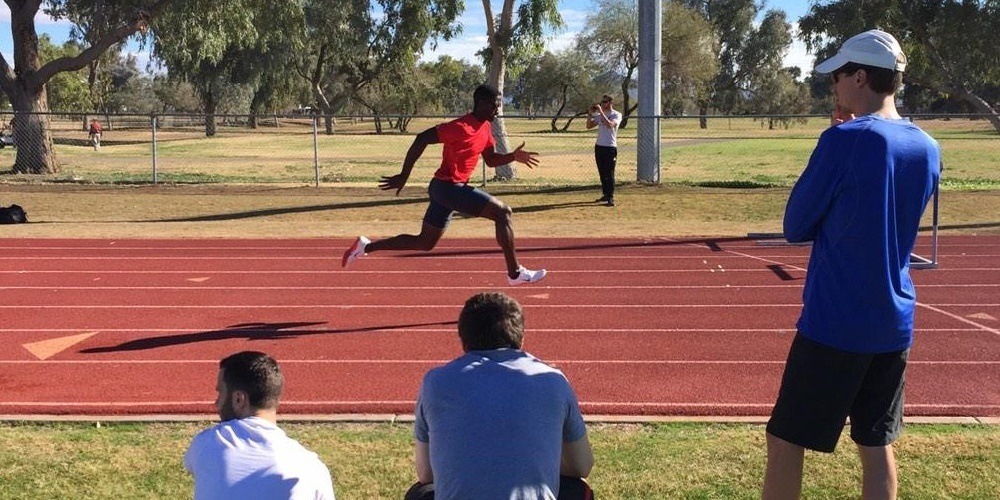 That's one of the great things I got out of the ACP: The vast evolution in mindset that I need to learn from others, and therefore to embrace asking questions – doing so has allowed me to put that fear down. I've since start working networks and embraced the concept of mentorship in a big way.
I've also noticed certain trends with great coaches; one of which was the concept of sharing information. Something that stuck with me was what Coach Pfaff said: "We're custodians of knowledge" – that really resonated with me. Before I went to Altis, one of my favorite things to do was sit around a table with coaches and just chat; so the poolside chats were a dream for me – to exchange that knowledge.
"I've noticed certain trends with great coaches; one of which was the concept of sharing information"
As an experienced high school coach – in your view, what are the key skills required to work with high school versus older athletes?
At any level, but especially at high school – there's a range in terms of both ability, and the position of any given individuals on the learning curve. I have one athlete who is an elite distance runner here in the US: He has qualified for the World Championships in Cross Country – then I have kids who are brand new to athletics; so for me both patience and maintaining a wide-angled awareness are things that I have to consider.
I think keeping and attracting interest is also critical with younger athletes. From a communications perspective, there has to be an element of being able to vary the way in which you speak to an athlete – so that it resonates with them personally. It does me no good to talk to my first year distance runner in the same capacity that it does with an athlete that gets to go run in China on the international scene.
Across the developmental curve I also believe there are commonalities. The concepts that are employed at elite level are the result of layers of work, and years of refinement: It is my job to peel back those layers, and engage the same strategies and methods – but at a level and intensity that makes them appropriate for lower ability levels. The skill of being able to address 'what' and 'when' in terms of training prescription is therefore critical, and very individual. For me that was a big reason to go to Altis because I wanted to see, for example – what Andreas was doing with Aries. Whilst clearly I'm not going to mimic that directly with my hurdlers, it does gives me some context as to where things need to be heading.
"Keeping and attracting interest is critical with younger athletes"

So what does an athlete need from a coach at High School level?
I'll go back to that overarching philosophy of developing good habits: One of the things that I've embraced as a concept ever since the outset is that 'I'm less concerned with the two or three hours at practice where I see the athlete, and more concerned with the other 22 hours in the day when I don't.' I can remember at the college having athletes come to me and just have them say "coach I don't think this training is working" and my response would be "that's possible – it might not be – I'm willing to change and adjust it, but do these things for me first…" – I would hand them a week long food log, a week long sleep log and I would get them to fill these things out: We would never change training is basically the quick answer to that!
You know, when you're going to bed at 3am and waking up at 7am, and the only thing you eat before practice is a pop tart and a can of soda, you're probably not doing the best things you can to prepare yourself for training! That's very evident at the high school level where high performance habits are not always instilled – so a big question for me is – what can you do to take care of yourself? To me, developing good habits in eating, sleeping, and maintaining balance is therefore critical. Additionally, clear communication with parents and giving parents the tools and knowledge to take care of the other 22 hours is key.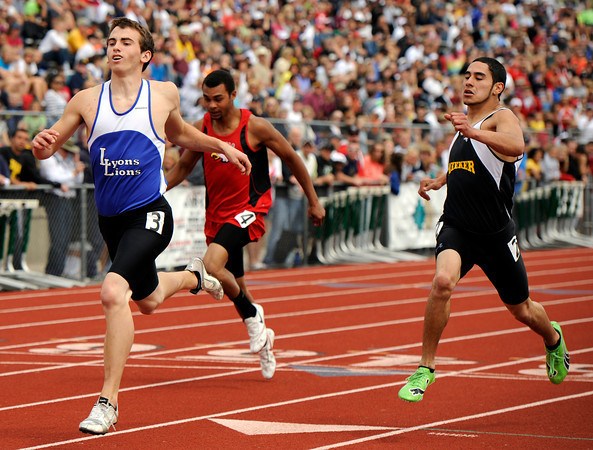 Can you expand a little more on the role of parents in this dynamic?
Our Head Coach has been at the school for 25 years, so he has a great reputation. One of the things that has given him this great reputation is that he has given very clear expectations. A lot of problems are often related to communication. So within my working environment it's pretty clear what the expectations are – both for the athletes and the parents. We also try to involve parents from a support standpoint. It comes back to ownership and responsibility – if parents have some ownership in the program, it's fulfilling to them; there's some value there for them as well. Setting clear expectations, and creating meaningful involvement are the two things we look for with parents.
What are your views on the relevance of drills with a High School aged demographic?
When I started coaching at the High School six seasons ago they needed a High Jump coach: I had an endurance background – that swiftly pushed me down the educational path with speed / power events. The first year when I started coaching I'd see an athlete do something, and I'd think 'that's clearly not right, so let me go find a drill that makes that right' – that was my frame of reference at the time.
I can tell you know that was essentially a misaligned thought process; because the isolation doesn't necessarily have great transference to the event. So whilst the concept of drill based teaching progression is valid to a point, I firmly believe if I can't progress it or if I can't build off of it, it doesn't add value. So, yes I'd perhaps start with things that would be 'drill' based in nature to create context – but only so if it could be expanded to flow seamlessly into the whole; all the time remembering that working the drill doesn't automatically make the skill happen.
"Working the drill doesn't automatically make the skill happen"
With this age group – there is a risk of drop out with a change in environment that occurs as athletes leave school. What can we do to avoid this?
Without being disingenuous – people like encouragement. That's a fundamental thing. It's what I try to do. So being a helper – the whole concept of taking care of someone as an individual and helping them see their potential is something I hold to high account. I do believe everyone has potential to improve, even though – clearly, not everyone is going to be an Olympian. Nonetheless, every athlete has the ability to better themselves. That's what I really try to impress on each athlete: That if you buy into the process you are going to improve. Yes – the goals may be varied; ranging from varsity, to state to nationals. However, the process isn't dissimilar and I feel a lot of this is underpinned by consistency and encouragement.
Jeff – great to hear your thoughts. Thank you for your time.