ALTIS Performance Director, Stuart McMillan takes centre stage in the fourth of our post-Rio interviews. In this Q&A, Stu shares unique experiences gained through coaching over 70 athletes to 9 Olympic Games – both summer and winter.
Which Olympic Games have you coached at?
I've coached actively at: Salt Lake City 2002, Torino 2006, Vancouver-Whistler 2010, London 2012, Sochi 2014 and Rio 2016.
I also coached athletes who competed in Sydney 2000, Athens 2004 and Beijing 2008, but did not attend.
What were the performance highlights?
It's tough to say, with over 30 of them winning medals; but the first gold medalist – American skeleton athlete Jimmy Shea winning in Salt Lake was a highlight – as was the exceptional performance of Andre De Grasse in Rio.
How many athletes were you coaching in Rio?
Andre De Grasse – Canada, Akeem Haynes – Canada, Ella Nelson – Australia, Jodie Williams – Great Britain, Ameer Webb – USA, Wilfried Koffi – Ivory Coast, Jeremy Dodson – Samoa, and Jahvid Best – St Lucia.
We also had Carlos Herrera from Mexico, who spent a considerable amount of time with us this year. Also from our sprints-hurdles group was Hafsa Kamara from Sierra Leone, who is coached by Chidi Enyia, Mikel Thomas from Trinidad and Tobago and Matthias Bühler from Germany, who were both coached by Andreas Behm; and Isabelle Pedersen from Norway, who was coached by Andreas and Dustin Imdieke.
So in total, the sprint group had 13 athletes from 12 different countries, coming home with 4 medals – pretty nice return!
How did Rio compare to previous experiences in terms of the organization of the Games?
After the great success of London 2012, it was always going to be a difficult follow for Rio. The main three things that a host city has to get right from the athlete's perspective is housing, food, and transport. I would say that Rio did a decent job with housing and food (not great – but the difficulty in housing and feeding over 10,000 folks for two weeks cannot be understated), and a pretty poor job of transport – mainly because the athletics stadium was a minimum 45 minute drive away from the Village. Olympic lanes were also seen as optional for resident drivers, so the 45 minute drive often ended up being considerably longer. All in all, though, I would say that much of the media-generated fears were over-exaggerated, and the Games were suitably organized.
What did an average day during the midst of the action look like for you in Rio?
Depends – most days started at 6am or so with a quick couple of terrible espressos from the Dining Hall, and a bus ride to the stadium for the morning sessions. Then back to the Village just after noon, followed by either training for the athletes, therapy, or getting a quick training session in for myself, before heading back to the track for the evening sessions. Evening sessions normally finished around 11pm, so we would get back to the Village around midnight – then a quick bite before bed. The exceptions were the medal-winning performances on four of the nights – where because of media responsibilities and doping, we would not get back to the Village until after 2am.
How did you personally manage your stress levels & well-being?
Nothing really different from a normal day, to be honest. I begin each day with at least 60 minutes of reading and writing – this serves to start my day off in a productive and active way, which I find keeps me from being distracted by various stressors. Like the athletes, I try to just focus on what is in front of me, don't worry too much over the things I cannot control (transport, for instance), and exercise when I can.
What are the most critical determinants of success for an athlete leading into the final week to 10 days?
I normally talk about a few:
The interaction of the three 'Cs' – comfort, continuity, and confidence. We make sure that the athlete is doing work that they are comfortable with and confident in; the continuity in the type of work we do in the last few weeks will feed the unique psyche required.
I always work backwards from the exact time of the race. If it is an evening race, then we will do something in the morning. If it is a morning race, then any preparatory or potentiation work will be done the day before. Understanding the exact nature of the adaptation from a potentiation session is imperative, as this is a very individual thing. In my experience, though, all must do SOMETHING – whether it's just a warm-up, some stretching and therapy, or a more dynamic session. The day before the preparation/potentiation session is a light therapy day – an opportunity for the athlete, coach, and therapist to check tissue quality and timing, and to ensure that any movement quality is optimized.
No new stuff – new training stimulus leads to new adaptations – adaptations that will manifest in a manner in which we cannot accurately predict. I tend to stick to the work that has got us to this point. I have way too often seen athletes and coaches panic at this stage, thinking that they have missed something; that they're not quite ready; that if only they had just done more … BLANK. Well – guess what? It's too late. Finish the season – debrief – and if you STILL think you missed something, plan it into the next season's training.
Plan for distractions. So often, we can put together great programming methods, and taper the athletes perfectly, only for optimal realization to be jeopardized by poor control of peripheral factors uniquely present at an Olympic Games. External challenges involving housing, transportation, training equipment and location, additional family and friends, increased athlete/group integration, media, public scrutiny, etc. can lead to poor performance. Preliminary planning – involving the athletes – in addressing these possible distractions can go a long way in reducing any potential negative influence they may have.
Respect the science – be guided by the art. I trust my instincts. I base my decisions on all the things I usually base them on – including 'science' – but am not bound by it, if my gut is telling me otherwise. The uniqueness of the situation, the time, and the environment dictate unique responses. The more experienced you are, the more you can fly by instinct. If you're not as experienced, effective communication with the athlete, and reading his or her instincts is key. Only the athlete really understands what is going on right now – I allow the pendulum of influence to swing further in their direction.
Listen to the athlete. The athlete is experiencing emotions that unless you were an Olympian yourself, you cannot begin to empathize with.
Keep prescription loose. Accurate adaptation prediction is difficult in the best of times; add the stress of an Olympic Games, and it becomes a very difficult task indeed. From about a month out, I tend to have daily objectives, and script the details of the session on the day, based on what I see, and what the athlete feels.
Rest and regeneration are more important than ever. If the athlete is sick – or injured – chances are they're not going to compete real well. Keep them healthy. Don't do anything stupid, and take health precautions. The added stress of a participation in an Olympic Games can often manifest into general health deterioration, mechanical dysfunction and, critically, increased incidence of injury and sickness. Appropriate 'pre-hab', regenerative measures, and effective nutritional and supplement strategies is paramount. Sleep is more important than ever. The body does not differentiate between emotional stress and physical stress. Stress is stress is stress. When planning for physical stress adaptation, we must ensure we understand emotional-psychological stress as well.
Get out of the way. Appreciate that if we have executed our plan properly we simply need to get out of the way, and allow the athlete to realize it. Over-coaching when we are stressed is the instinct, but we must trust the process, and allow the performance to just manifest.
Micro-plan vigorously. Too many folks wake up on competition days with no plan about how they should go about their day. I'm pretty specific with my day-of-the-meet timing, and will have have a minute-by-minute schedule prepared days beforehand that I will discuss with the athlete. It's important that there are no surprises on race day, and I find that if we talk about the day earlier in the week, it serves to reduce the anxiety.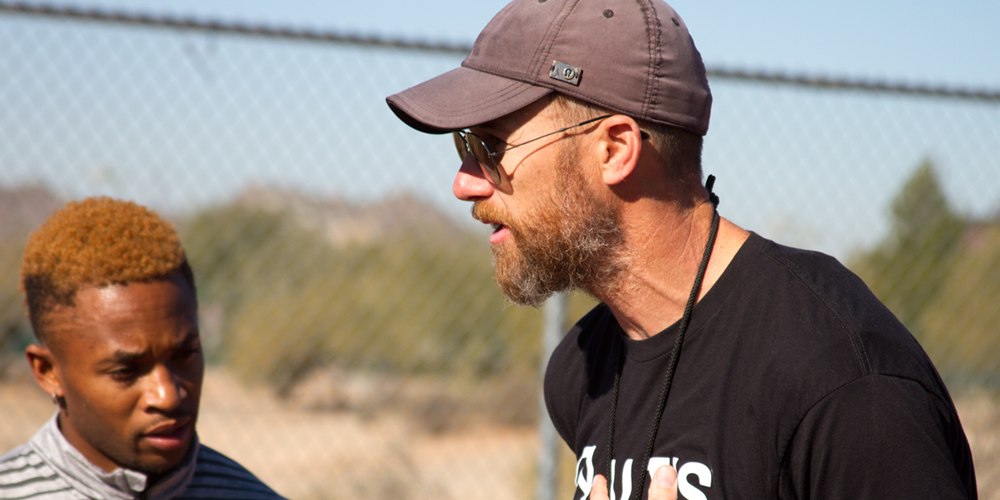 What are risk factors which can negatively impact an athlete's performance? How did you manage these?
Additional media responsibilities are a big one. As is health – with the added emotional- psychological load of competing at Trials, travel to Holding Camps and to the Games itself, as well as how 'new' all this is, it can often lead to a dampening of the immune system; many Olympic dreams are hampered by a sickness coming at the wrong time. Strategies to combat the potential of a decrement in health are key – as is the program plan in between Trials and the Games. Too much stress-density in this period can often lead to poor performance, or at worse, injury. Overseas travel should be avoided – as should other intense stressors; there is enough going on in the athletes' lives at this point!
But perhaps the primary thing I have seen get in the way is the additional responsibility that athletes feel with their family and friends present. Too often, performance has been hampered because the athlete feels the pressure to babysit family and friends. It is important that the athlete and coach put together a plan to mitigate these distractions, and involve the family and friends in them. I typically – at the very least – send out a letter to athletes' families explaining the situation, and detailing that they are there to support the athlete, but that it is not their friend or family member's responsibility to take care of them; that they are there to do a specific job.
How fluid was this programming? Did you have to engage any Plan B contingencies?
Planning is always fluid. More so around big competitions. We just try to keep the athletes sharp, and focus on specific KPIs. Health with all of the athletes was excellent, so we had no need for plan B work – with the exception being Ameer Webb, who tore his hamstring leaning at the line at USA Trials. We had 4 weeks of plan B work leading up to the Games, and unfortunately didn't quite have enough time to get him sharp. I feel he could have won if it wasn't for the injury, as he would have been the only major player in the 200m who wouldn't have raced either the 100m or the 400m beforehand. We saw how this schedule affected the athletes – running 6 fast races in 6 days is not easy – for example, leading into the day of the 200m final, Andre had already ran 3 personal bests in the previous 4 days – that is a tough schedule for anyone to recover from.
As a coach working with multiple athletes from multiple nations how do you manage relationships with NGBs and Team Staff?
I find the best situations are always those where the coach has an open, honest, and interactive relationship with other members of the athlete's 'team' – whether this be agents, managers, team staff, or NGBs. I try my best to have functional relationships with as many of them as possible, but because of sheer numbers, and occasionally personality differences, this is sometimes difficult. I will keep trying though!
What's next for you and the athletes post-Rio and for the remainder of the season?
Andre is back to school fulfilling his promise to his mother to finish his degree, Ella Nelson competed in her first Diamond League event in Paris, and Jodie Williams and Jeremy Dodson compete in Gateshead on September 10th. All other athletes are finished for the season.