When Kendra Harrison broke the 100 hurdle world record in 2016 PJ Vazel wrote a great analysis of this race. So when Dalilah Muhammad recently broke the 400 hurdle world record at USAs there was a clamoring for PJ to write another analysis. Congratulations to both Dalilah and her Coach Boogie Johnson on a fantastic performance. This article provides a in-depth statistical breakdown and historical comparison of the new women's 400h World Record.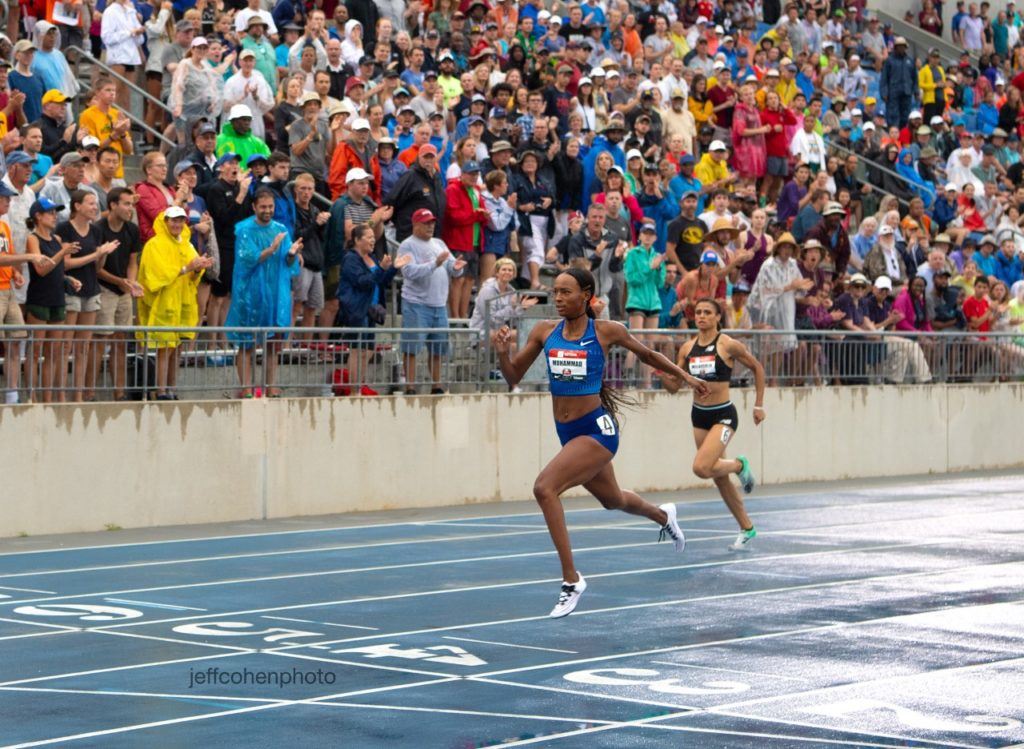 "She didn't finish that fast, actually her best part was after H1".
Whoever has seen the new World Record race by Dalilah Muhammad at 400m hurdles would probably disagree with this statement, but it pretty much sums-up what the intermediate times I calculated reveal from video analysis of the USATF Championships final held in Des Moines, IA on the 28th of July.
That's where analysis becomes an educational tool: visual impression is not enough. Objective data is necessary to embrace a global picture along with the athlete's feedback and coach's feelings.
Comparison of Muhammad Vs Pechonkina cumulative splits in WR run:

The previous record of 52.34 held by Russian Yuliya Pechonkina came as a surprise in 2003. But since then, there were only a few contenders such as Melaine Walker in 2009 (52.42) and Lashinda Demus in 2011 (52.47) that could come close to approaching such a time.
More recently, many believed 2016 olympic champion Muhammad would be the one as she ran 52.64 and won the world title in 2017, but since 2018, all eyes were on Sydney McLaughlin who ran a World Junior Record of 52.75, with a 50.07 reference at 400m flat.
Muhammad showed strong signs of form with a 50.60 PB on 400m flat, but it's safe to say that one month later at USATF champs, she was probably in sub-50 second shape.
In Des Moines, Muhammad could control the race out of lane 4, as McLaughlin, unbeaten this year and world leader with 53.32, was in lane 6. Shamier Little in lane 5 was the fastest starter with 6.14 at H1. This was way too fast if we consider that she set her 52.75 PB in 2017 with 6.5 at the first hurdle… Muhammad was timed in 6.25, close to the all-time world best for a PB race, 6.17 by Lashinda Demus at 2011 World Champs (52.47).
Thereafter, Muhammad was exceptional, highlighted by a time of 3.90 for the first interval, which nobody has ever run as fast.
Hurdle 2 was reached in 10.15, and from there, all her intermediate times at each hurdle were world bests for a PB-race.
At H5, Muhammad was timed in 22.79, in advance compared to Pechonkina's WR (22.9), also a huge lead over McLaughlin, 23.33. Yet, McLaughlin was ahead of her own pace for her PB, where she ran 23.49 for her 52.75 WJR.
Hurdling with a right-lead leg, Muhammad maintained a 15 step rhythm until H7 (timed in 31.66, a good margin over Pechonkina's 31.9 during the WR). She had to push to maintain 15 steps between H6 and H7 and as a result ran 4.47 seconds, breaking the world best for PB race held by Marie-José Pérec since 1995 (4.48 for 53.21).
But the switch to left leg after H7, adding a step made her too close to H8 and lose time, as illustrated in the graph (H7 is placed at 255m) and by H9, she was no longer ahead of the WR splits. However, the clearance times for each hurdle show a loss as early as the 6th barrier.
Is there room for improvement here?
Does Muhammad need to change lead legs after H6, or can she adapt her steps to the constraints of the set distance for intervals with fatigue in a smoother way?
Is it enough to break the 52 sec barrier that 400m hurdles specialist are expecting, at least since 1985 when East German Sabine Busch, a 400m specialist (49.24), made her debut race with barriers in 53.83 (she would set her lifetime best in 53.24 2 years later)?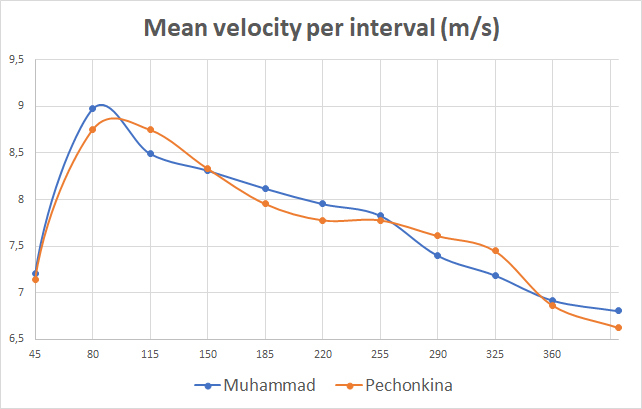 Muhammad gave the impression to finish extremely fast, but while it was obvious no one could catch her in the last straight unless she made a mistake on the hurdles, McLaughlin was the fastest in the run-up to the finish line, 5.61, compared to 5.88 for the new World Record holder. Only she has run faster there, during her WJR (5.39).
The next big clash between both will be at the World Championships in Doha. Will Muhammad manage to get a smoother transition from 15 to 16 steps?
What can McLaughlin do to reduce the gap with her rival as they enter in the homestretch?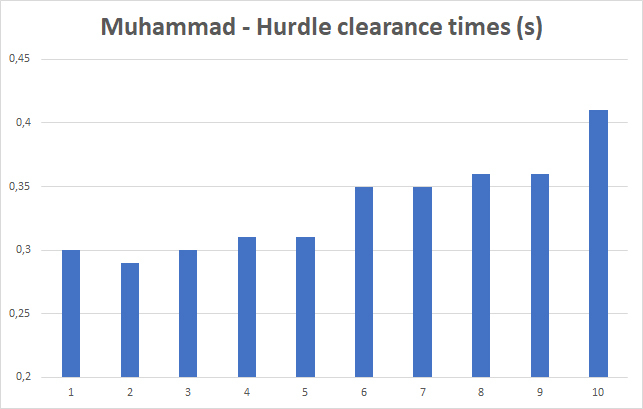 Further analysis of Dalilah Muhammad's progression using her last 4 personal bests, since her first sub-54 race in 2013, shows that she mainly improved her first half of the race until 2017. Indeed, her time at the half way was almost identical during the World Record, meaning that her first part of the race was already mostly set up. However, her 2nd 200m was much faster this year. But more generally, from 2013 to 2019, the balance of her two 200m halves remained essentially the same, around 3 seconds, she just both started and finished faster!
The fact that she was able to improve both ends may not mean that she improved in both speed and endurance. Indeed, her 200m times in competition do not seem to have improved: 23.22w in 2013, 23.35 in 2019, both in the early-competitive season. It may show that she got better in tapping into her speed reserve, reaching half way relatively faster compared to her basic speed, without altering her ability to finish strong. This might be the expression of specific endurance work.
Muhammad actually ran 24.3 at 200m during her 50.60 PB run at the flat 400m, which is barely faster than her 24.55 with 4 hurdles during her 400m hurdles WR. It indicates that her 50.60 is not representative of her true abilities and should almost be seen as a tactical race! She may be able to run close to mid 49sec in the open 400.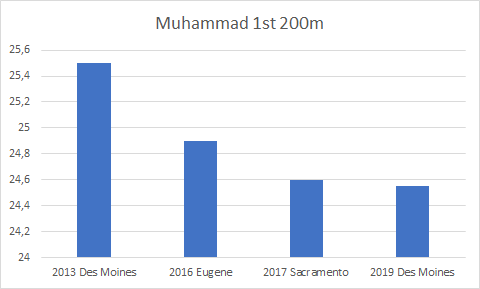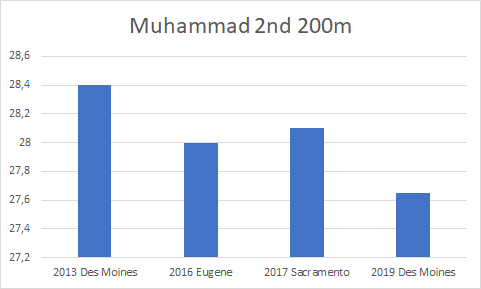 Interval times by Muhammad and the all time world bests for PB races :
Start-H1 6.25 6.17 Lashina Demus USA 52.47 WC 2011
H1-H2 3.90 3.92 Melaine Walker JAM 52.42 WC 2009
H2-H3 4.12 4.0 Yuliya Pechonkina RUS 52.34 NC 2003
H3-H4 4.21 4.16 Zuzana Hejnova CZE 52.80 WC 2013
H4-H5 4.31 4.2 Shamier Little USA 52.75 NC 2017
H5-H6 4.40 4.40 Several athletes
H6-H7 4.47 4.48 Marie-José Pérec FRA 53.21 Zürich 1995
H7-H8 4.73 4.59 Sandra Farmer-Patrick USA 52.79 WC 1993
H8-H9 4.87 4.7 Yuliya Pechonkina RUS 52.34 NC 2003
H9-H10 5.06 4.78 Daimi Pernia CUB 52.89 WC 1999
H10-Finish 5.88 5.39 Sydney McLaughlin SEC 2018
(NB: These interval times world bests are mentioned as a reference tool to assess tactics, it would make no sense to try matching them all or adding them to get an ideal time as it would defy human's physiology and misunderstood the tactics at play between fast starters such Demus and Walker compared to others who pace themselves in order to finish faster such as Pernia or McLaughlin).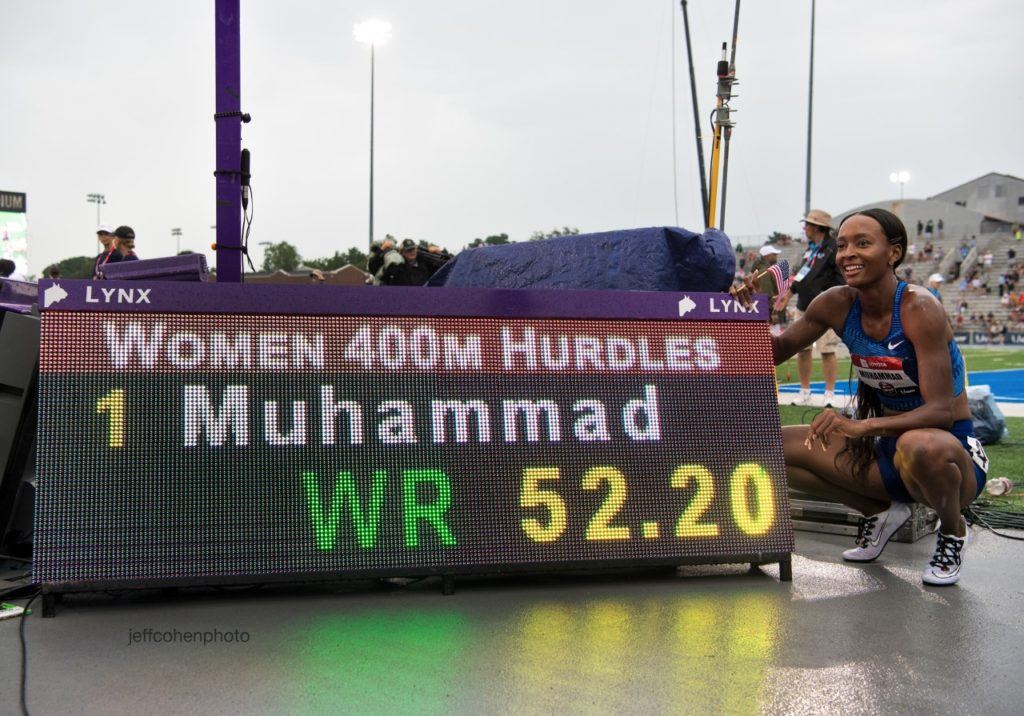 This new world record is of historical significance, as for the first time ever, the USA holds the 4 hurdles records at the same time: 110m hurdles in 12.80 by Aries Merritt since 2012, 400m hurdles in 46.78 by Kevin Young since 1992, 100m hurdles in 12.20 Kendra Harrison since 2016 and now 400m hurdles. To put what 52.20 means in perspective, at the date of that race, only 88 women in the world had run faster… at 400m flat!
It's also pretty close to the IAAF qualification standard at this event (51.80). 52.20 is almost 1sec faster than the time Muhammad ran to win the 2016 Olympic title (53.13). Sub-53 times are actually very rare, the last time it was achieved in a major championship (Olympics or worlds) was 2013. This shows how fantastic 52.20 is for 400m hurdles.
In conclusion – Coach Boogie Johnson points out two valuable things: First off, he mentions that the work Dalilah did to put herself in a position to break the World Record really started in 2016. It was no overnight success, but rather built on slow, incremental progress over the course of several years.
"Dalilah's achievement of the WR started with a conversation that developed into a goal. That goal became reality through hard work, specific event preparation and an unyielding desire to be the standard as it relates to the 400H event – and we ain't done yet!"

Boogie Johnson
Hinting at the fact that 52.20 doesn't fulfill her full potential yet. Dalilah Muhammad echoes those sentiments.
"So many people keep asking me, what's next? And as proud as I am to have broken the World Record, the crazy thing to me is that I want so much more. My motivation to run is still there. My love for the sport is still there. That race feels more like a beginning than an end."

Dalilah Muhammad
As mentioned at the start, this article provides a statistical overview of this new World Record. For even more background on the performance we recommend checking out Chris Chavez' awesome piece in Sports Illustrated which was published not too long ago.