Following his 2009 & 2011 victories at European U20 & U23 level, Thomas Van der Plaetsen had been noted as a rising star in the Combined Events. Whilst 2012 sidelined the Belgian through injury, 2013 saw a breakthrough year at senior level – and following an extended training camp at Altis in the spring of 2013, Thomas won the 27th Summer Universiade in Kazan, Russia, with a new PR of 8164 points.
2014 has so far shown Van der Plaetsen deliver spectacularly on this early promise – with the World Indoor Championships in Poland becoming the setting for 23 year old's first taste of the podium at a World Championships. Following a grueling two days, Van der Plaetsen claimed bronze in the Heptathlon, with a new National Record tally of 6259 points.
With the 2014 European Athletics Outdoor Championships now on the horizon, and the goal of a medal in the sightline, we took the opportunity to chat to Thomas and his Coach – Michael Van der Plaetsen – to gain some deeper insights into this stellar partnership.
Michael, for those readers who don't know your background, could you give us a brief overview of how and when you started coaching Thomas, and your background as a coach?
M: I started out as an athlete myself. I studied at a Belgian school for young elite athletes as a decathlete and hurdler. After that I studied sports education and I finished my school in sports communication and management at the University of Brussels. During my studies I was mostly interested in the management and culture behind high performers. I was involved in the pole vault and had the luck to follow some great athletes and coaches. I travelled to the IAAF jumps center in Formia, Italy, where I could follow the work of Vitaly Petrov and spent a lot of time in Stellenbosch, South Africa, with coaches like Joepie Loots and Chauncey Johnson. At the same time a lot of American and European athletes visited our hometown as my sister has a management agency for track athletes (Waffle Sports Management).
After seeing all these different athletes and coaching structures I really got interested in the coaching side of elite sports.
I started coaching at a young age, when I was 21 I had a small group of athletes and coached my brother Thomas in the high jump. By the time I was 24 and finished school my brother Thomas won the decathlon at the European Junior Championships and one of my another athletes made it to the finals in the pole vault at the 2009 World Championships in Berlin. That's when I decided to start coaching full time. Today I'm working for my Federation as an elite coach. I mainly work with jumpers and guide Thomas as a decathlete.
What do you look for in an elite training environment for your athletes?
M: I look at the culture and training facilities of the center as this has the biggest impact on the athlete. I'm looking for a positive environment which promotes a 'can do mentality' and is inspiring for the athletes. In this respect it can be very beneficial if there are other athletes and coaches around with whom you can work together or learn from.
Does Altis fulfill those criteria, and if so, how?
M: In my opinion Altis ticks all the boxes. John [Godina] has done a wonderful job creating a high performance environment for athletes and bringing world class coaches with a proven track record together. He also has given them the tools and freedom to work simultaneously with developing athletes, top athletes and coaches in one place. Only for those reasons alone Altis is already a very inspiring and welcoming place. Combine that with the high quality facilities and on-site medical support Altis makes a great place for both athletes and coaches to go on training camps.
"The educational program is one of the best I have seen and it has lots to do with the quality and experience of the coaches who are involved." Thomas Van der Plaetsen
At Altis we are proud of our commitment to both Athlete and Coach education … do you feel being onsite at Altis helped you develop as a Coach?
M: I think in the field of coaching education at Altis is a unique place. The educational program is one of the best I have seen and it has lots to do with the quality and experience of the coaches who are involved. I did a lot of work with Coach Dan Pfaff, he is well known to have one of the greatest coaching minds in track and field and he didn't disappoint. His observational skills are simply unique and he combines that with exceptional teaching methods. I worked with Dan for over a month and can honestly say that I will use much of his advice for the rest of my coaching career. We also did technical sessions with Coach John Godina for the throwing, and got some really good advice from him too.
Thanks Michael – some really great insights.
So moving onto some questions for Thomas … could you tell us how you first heard about Altis Thomas, and what made you decide to want to train there?
T: At the European Indoor Championships my manager/sister and my coach/brother had talked to Dan [Pfaff] about my injury problems. He said he had started coaching at Altis and that we were more than welcome to come over and train there.

What do you like about the environment at the Altis?
T: I like how all the various aspects of training, for both the athlete and coach, are integrated into one environment. This combined with a whole lot of like-minded and ambitious people make it a great environment to develop as an athlete.
"I like how all the various aspects of training, for both the athlete and coach, are integrated into one environment." Thomas Van der Plaetsen

Has the time you have spent at Altis helped you grow as an athlete?
T: I had been struggling with a hamstring injury for a year. During my stay at the Altis I got the much needed help to get back to training at a 100%, which saved my 2013 outdoor season. I also learned a lot from the coaches and fellow athletes on both a technical and mental level, and most importantly the visit strengthened my eagerness to learn and figure new things out for myself. I haven't figured out when exactly, but I definitely want to visit again!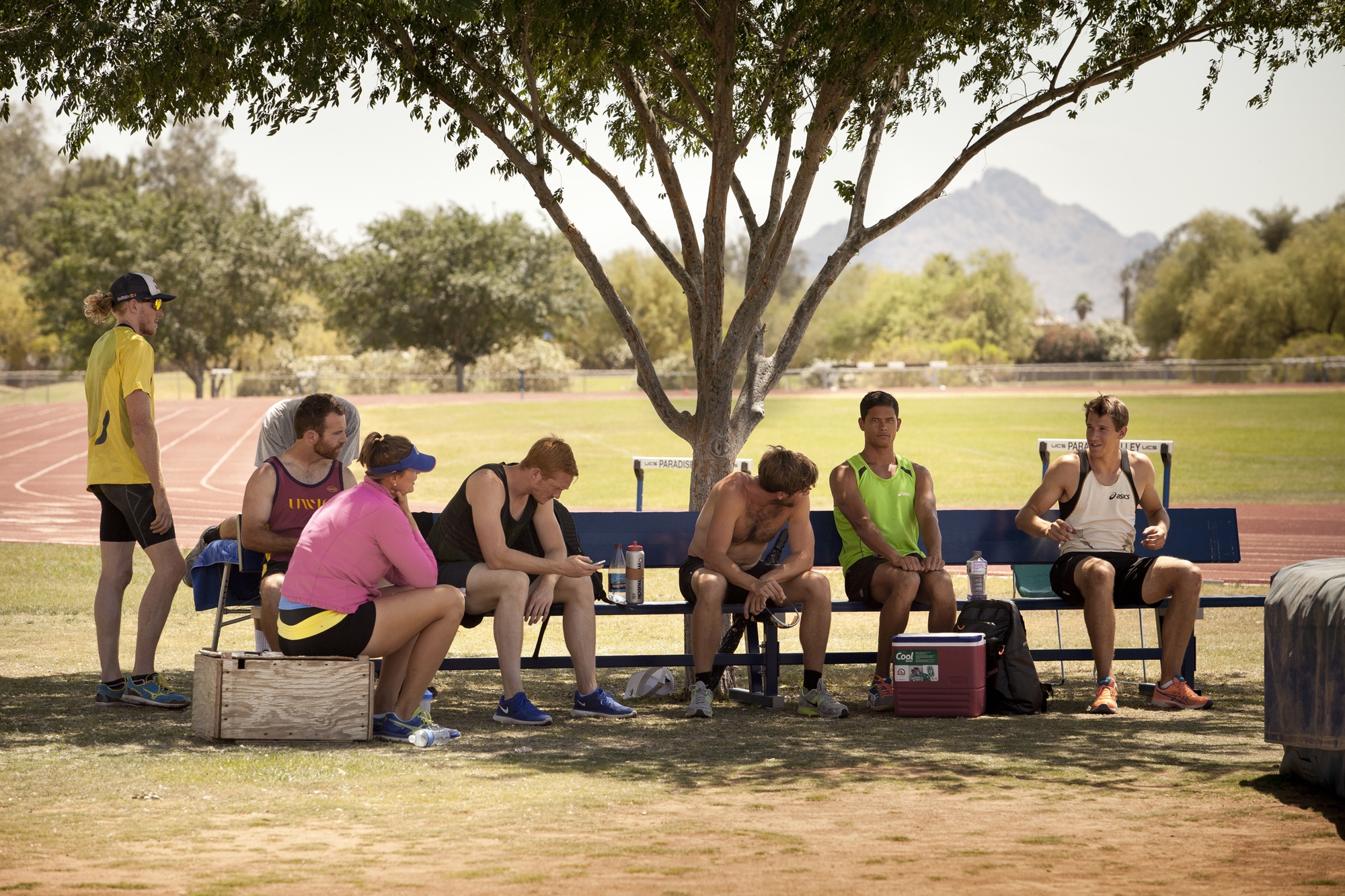 Thomas has scheduled his first outdoor multi event competition at the prestigious Hypomeeting in Götzis, Austria from May 31st – June 1st.
You can follow Thomas on twitter here and find his website here
More on his management agency – Wafel Sports Management – can be found here.