As athletes and coaches from around the globe continue to join us to train, learn, and network with other like-minded professionals at Altis, we have been working behind the scenes to gain insights and perspectives from this truly global demographic – through a series of Coach and Athlete interviews.
Following our most recent Coach–Athlete interview featuring Belgian Decathlete – Thomas Van der Plaetsen, and his Coach – Michael Van der Plaetsen, we move our sights to northern Europe where our next Q&A focuses on a Coach-Athlete partnership from Norway.
Norweigan 400m hurdler – Marius Bakken Støle – spent last April onsite in Phoenix prior to being part of the record breaking quartet who broke the U23 National 4x100m record in the summer of 2013. Following a successful winter's training, Marius and his training partners have returned to Phoenix, but this time with their Coach – Anne Brit Skjæveland Sandberg – for an extended camp, and to enable Coach Sandberg to attend the Apprentice Coach Program.
In this Q&A we chat to the duo about training, their goals, and their thoughts on Altis from a Norweigan perspective…
Marius, can you start with a little background – how old are you and where are you from?
I am 20 years old, turning 21 in June. I come from Sandnes Idrettslag in Norway, and my club is Sandnes, Norway. I run the 400m hurdles, and my current PR is 51,67 seconds.
What has been your greatest success so far?
I reached the semi-final in the World Junior Championships in Barcelona in 2012.
And you goal for 2014?
My main goal for this season is to qualify for European Championship in Zürich.
How does training at Altis compare to training in Norway?
One obvious difference is of course the weather. The dry and warm air in Phoenix is ideal for sprint training compared to the cold and wet weather back home. At Altis they also have World Class coaches and very good Sports Masseurs Physiotherapists & Chiropractors. It's great to be able to access treatment every day if you need it … and they really help you stay injury free.
"They have some very talented athletes here at Altis and I have learned a lot by watching how they do things" Marius Bakken Støle
What have you learned from being around the other athletes and coaches?
They have some very talented athletes here at Altis and I have learned a lot by watching how they do things. It is also very inspiring to get tips from, and watch Jeshua Anderson train for the 400m hurdles. I have also learned a lot from the coaching staff at Altis, e.g . how to improve my sprint technique, my technique in the blocks and I have learned a lot in the weightlifting room. I look forward to continue the good work with all the new stuff I have learned when I get back home.
Marius – thanks for the insights. Now, moving across to your Coach … Anne, can you tell us a little more about your background and how you got involved in coaching?
I am currently a coach for athletes from 18 to 22 years old at i Sandnes Track Club in Norway. I am a former Heptathlete and competed at the 1992 Olympic Games in Barcelona. I started to coach young athletes in 1996 and I have been coaching on and off for about 6 years. I also have a full time job beside the coaching job.
Who has been your most infulential Mentor, and what has been their stand out message?
My key mentor has been Dan Pfaff. He had guided me in the direction to become a better coach and to understand the role as a coach.
What made you choose Altis as a training base for your group?
Dan Pfaff was my coach at University of Texas in El Paso in the 80's. I have kept in touch with him over the years and when he started coaching in Altis, I decided to travel to Phoenix to attend the Apprentice Coach Program, and to learn more about the coaching philosophy at the Altis.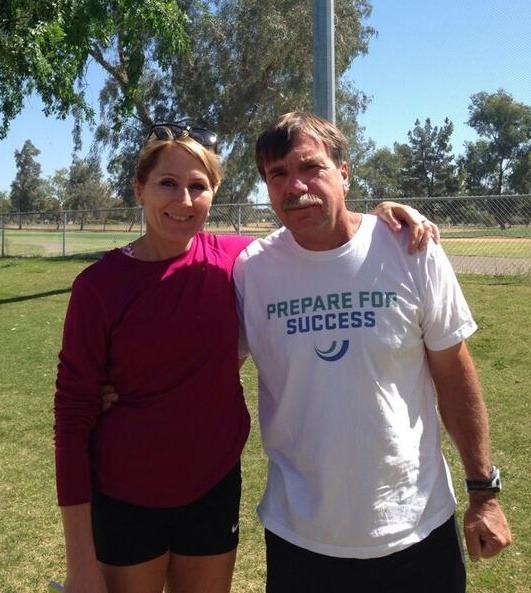 In addition to Marius, which other athletes are you currently onsite with at Altis?
I have 2 other athletes here – Ida Bakke Hansen and Joachim Sandberg. Joachim runs 400 m hurdles and Ida runs 100/200 m and 100 m hurdles. Joachim is aiming to qualify for the World Junior Championships in Eugene, USA this summer.
And from your perspective as a coach, what is it about training at Altis which makes the athletes enjoy the experience so much?
They love the weather, the great coaches and the professional program. To train with an elite athlete gives them inspiration and they learn how life is like as a professional/elite athlete. There are a great team of coaches and therapists that work together in a team. They are very friendly and give them the help and guidance that are necessary.
"If as a female coach you want to learn more about elite coaching, the Apprentice Coach Program is the program to attend" Anne Brit Skjæveland Sandberg
Lastly, moving onto a couple of more philosophical questions … have you felt any different pressures / expectations as a female coach operating in the Track and Field environment – one which is largely dominated by male coaches?
No. My aim is to learn more from elite coaches and get the experience to coach my athletes to a higher level.
Great, so what would be your advice to other female coaches trying to forge a path as a successful coach?
If as a female coach you want to learn more about elite coaching, the Apprentice Coach Program is the program to attend. During the week program we learned about therapy sessions, warm-ups, workouts, strength training and every day we had round table discussions. As a female coach, Altis welcomed me just like all the other coaches. They didn't treat me any different. The staff and athletes were all very professional and really helped to assist us on our journey towards coaching excellence. If you are a female coach, just go for it!
Coach Sandberg and Marius Bakken Støle are on Twitter – give them a follow!