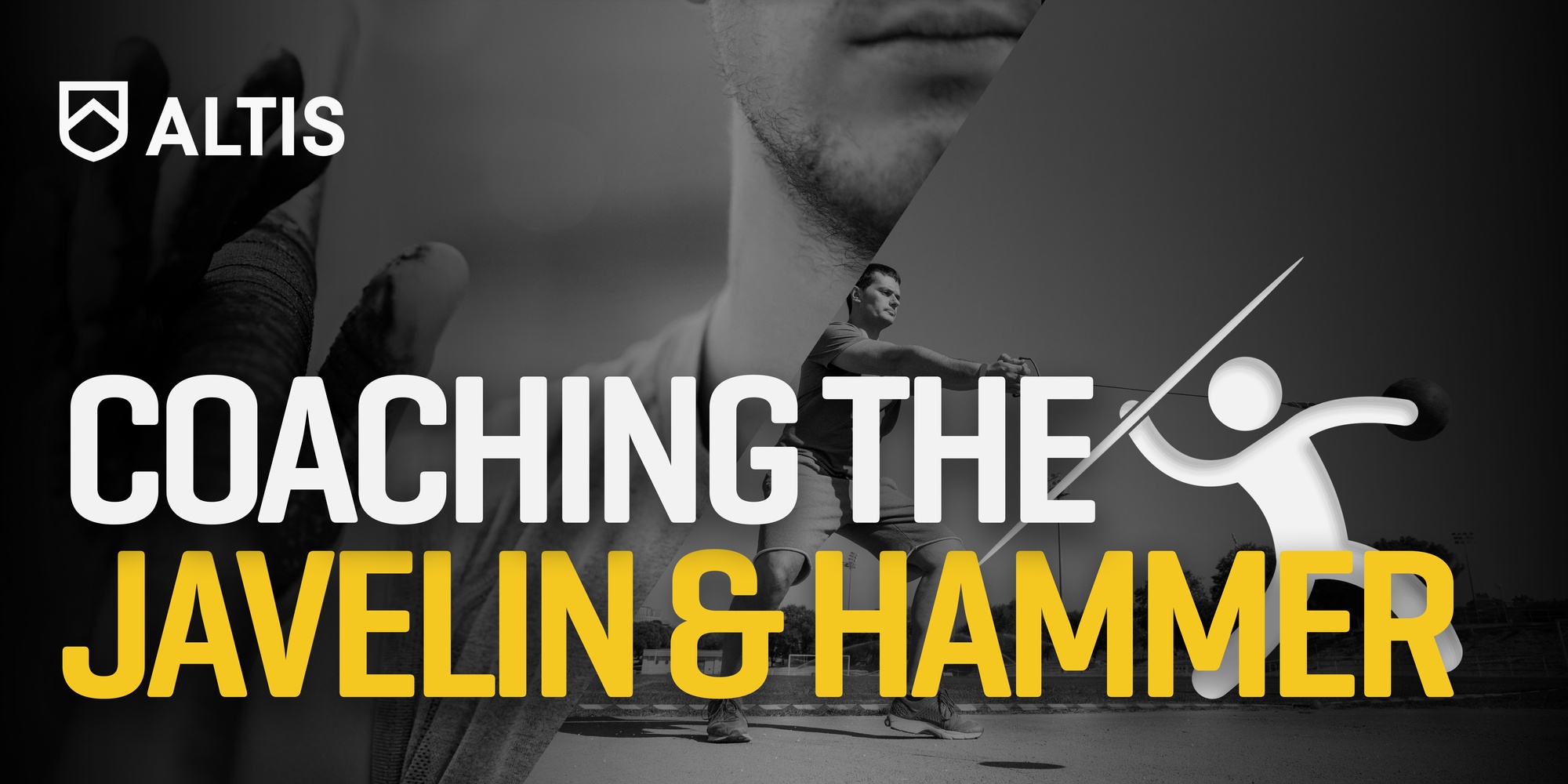 ALTIS Coaching the Javelin & Hammer
Part of the ALTIS Track & Field Education Series, this course is a digital educational program dedicated to helping coaches develop their understanding and coaching competencies in the Javelin and Hammer. With over 180 videos and 18 hours of guided educational content written by world renowned throws coach – Don Babbitt, Coaching the Javelin & Hammer is a must for any coach working with throws or multi event athletes.
Course Introduction
Featuring Course Author, Don Babbitt.
1  Introduction to the Hammer & Javelin
2 Biomechanics of the Hammer & Javelin Throw

3 Technical Development for the Hammer Throw

4 Programming and Long-Term Development for the Hammer Throw
5 Technical Development for the Javelin

6 Power Training, Programming, & Long Term Development for the Javelin
Designed by experts in education and digital technologies, Coaching the Javelin & Hammer allows coaches to access premium coach education curriculum on any digital device, anywhere, anytime.
The course is separated into six topic specific modules, each featuring explanations, videos, guest interviews, graphics, diagrams, and further learning material. Each module also features a multiple choice learning check, providing coaches with the opportunity to check their understanding.
This format allows provides the opportunity for coaches to:
Study online at their own pace

Take the online learning checks when you are ready

Refer back to content at leisure, with lifelong access to the course.
On completion of this course, coaches will:
Understand the components underpinning success in the Hammer & Javelin


Understand basic safety considerations

Understand the rules and technical requirements


Be able to develop and implement teaching progressions

Be able to error detect and correct 

Understand the influence of biomechanics on the Hammer & Javelin


Understand and apply relevant programming principles 

Differentiate programs to meet the requirements of different levels of athletes

Select and implement appropriate drills & exercises to aid athlete development.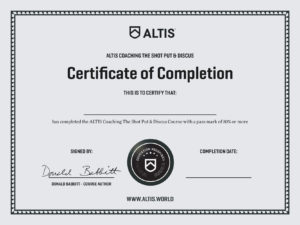 Upon course completion, coaches are awarded the ALTIS Coaching the Javelin & Hammer  Certificate of Completion.
The author of this course is Coach Don Babbitt - a world renowned throws coach with over 35 years coaching experience. During this time, Babbitt has coached in excess of 50 athletes to the World Championships and Olympic Games; throwers under his tutelage have won 20 titles at USA Championships; and have enjoyed huge success at NCAA level with both Cal State and the University of Georgia. An esteemed Coach Educator, Coach Babbitt has written over 70 articles and three book chapters for publications on six continents and in six different languages. He has served as Throws Editor for the IAAF Coaches Education Program, and is an IAAF Level V Lecturer for the IAAF Throws Academy Courses since 2009 - as well as having produced and taught the throws curriculum for the new USATFCCCA Coaching Academy. ALTIS Community
Enrolling on this course also comes with the bonus of membership into the ALTIS Community; a private Mighty Network community providing exclusive video content and live streams, as well as a forum for discussion, collaboration, and networking for coaches across the globe.
No, you can choose to enroll at any time you like, and complete the course according to whatever timeline suits you. There is no time limit for completion, and you can study at your own pace.