If I had to point to one reason I have enjoyed a successful coaching career, I would say because I have been well-mentored.
Let me explain.
Mentorship is a relationship in which a more experienced or more knowledgeable person helps to guide a less experienced or less knowledgeable person. It is the cornerstone to develop expertise in a profession.
Without a good mentor, a coach will never fully develop their skills.
It seems the most popular way to develop 'expertise' is through courses and seminars. While these methods can give you insight into the component-parts of coaching – they don't show you how to coach.
Coaching courses are akin to watching sports highlights shows.
They show you all the interesting pieces, but they don't show you how they all fit together.
Of course, you can figure this out on your own – by 'just coaching', but there's a far more efficient and effective way: the guidance of a good mentor.
A good mentor shows you how all the pieces fit. A good mentor fulfills three roles — acting as a:
Lighthouse
Navigator
Connector

In this article, I will share my thoughts on these three roles, and give you examples from my own coaching career.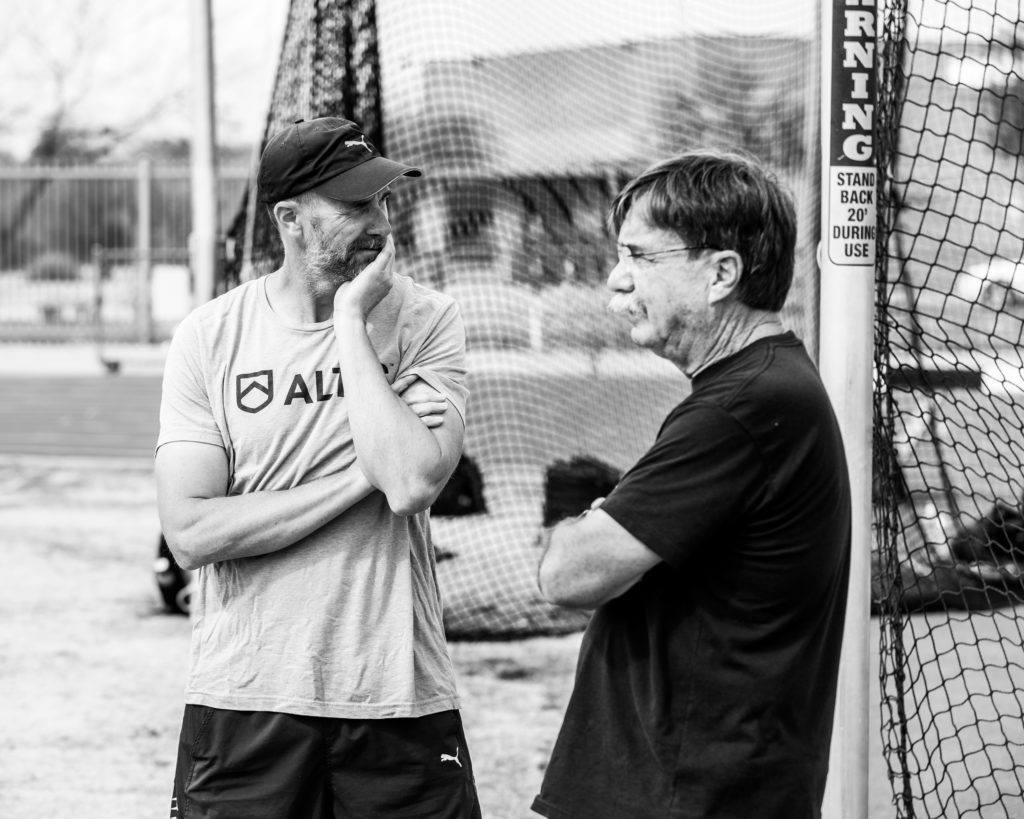 STEP 1: The Lighthouse
Prior to meeting Dan Pfaff in 1995, I had been coaching for a few years, and had some success. I had read everything there was to read on training, watched everything there was to watch, spoke to everyone there was to speak to.
I was a really good coach.
Or at least I thought I was.
You know that saying "you don't know what you don't know"?
That was me.
I didn't know what good coaching was.
Meeting Dan Pfaff changed everything.
Meeting him – talking to him, watching him work, and learning from him – showed me how little I knew.
But it was so much more than that.
In Dan, I saw what good coaching could look like: a lighthouse to which I could attempt to navigate my own coaching towards.
He showed me what good coaching was!
25 years later, and it's clear to me that Dan was – and continues to be – an amazing mentor.
It's also clear to me why so many coaches – from those who are brand new in the game, to elite coaches working in professional leagues – continue to look to Dan for guidance.
And for all of us, it started with Dan simply 'being Dan': showing us what we could be – what coaching could be.
Not necessarily how to do it, nor what to do [that would come later] but simply what it could be.
This is the first step in being a great mentor: to provide a vision of your future self. Someone doing something you would like to do, in ways you would like to do it.
I can't tell you how important this was for me.  
Like I said – it changed everything.

STEP 2: The Navigator
If step 1 is providing a future vision for yourself as a coach – a lighthouse – step 2 is helping you to navigate the often choppy waters of your journey towards this lighthouse.
During this journey, you never know what's coming next.
You might think you know.
But you don't.
The reality is it is uncertain.
It is uncertain because it hasn't happened yet.
And how do you find clarity amongst uncertainty?
In an age of uncertainty, the ability to sense what to do in advance will make you smarter, more inventive, and more relevant.
"We have a huge capacity for invention — if we use it. We have limitless talent for questions and exploration — if we develop it. We can imagine what we've never seen before — if we practice it. Lose those gifts and we are adrift. Hone and develop them and we can make any future we choose." – Margaret Heffernan, Uncharted: How to Navigate the Future
Your coaching future is unknown. It is not predictable. It is complex.
As Heffernan would say, it is 'uncharted'.
And how do you prepare for an uncharted future?
You get a guide.
A mentor.
Someone who can show you your destination, and help you navigate your journey towards it — someone who has 'been there – done that', who can provide some clarity to the uncertainty.
This is Coach Dan's purpose now in his professional life.
He retired from day-to-day coaching after the 2016 Olympic Games, and now mentors dozens of coaches around the world – helping them navigate their way through their own coaching journeys – including myself.
Not a week goes by that I don't text or email Dan about a problem I'm having. Whether it is a question with programming, looking at film together, or talking about how better to get our coaching ideas across to the athletes – Dan has always been there to help me figure stuff out.
And increasingly, I am fulfilling this role with other coaches now as well.

STEP 3: The Connector
"Good mentors are connectors – making and supporting introductions to key stakeholders in the industry. Peer introductions and cultivation of relationships are a critical piece in the process." – Dan Pfaff
This is so true – and was a big part in my own development as a coach. Dan showed me who I could be, and how I could navigate my journey. And this was so important!
But without the assistance of an amazing group of peers, I wouldn't have become the coach I am today. I mean – who wants to embark on an uncertain and complex journey by themselves?
Every journey is better with friends to keep you company, right?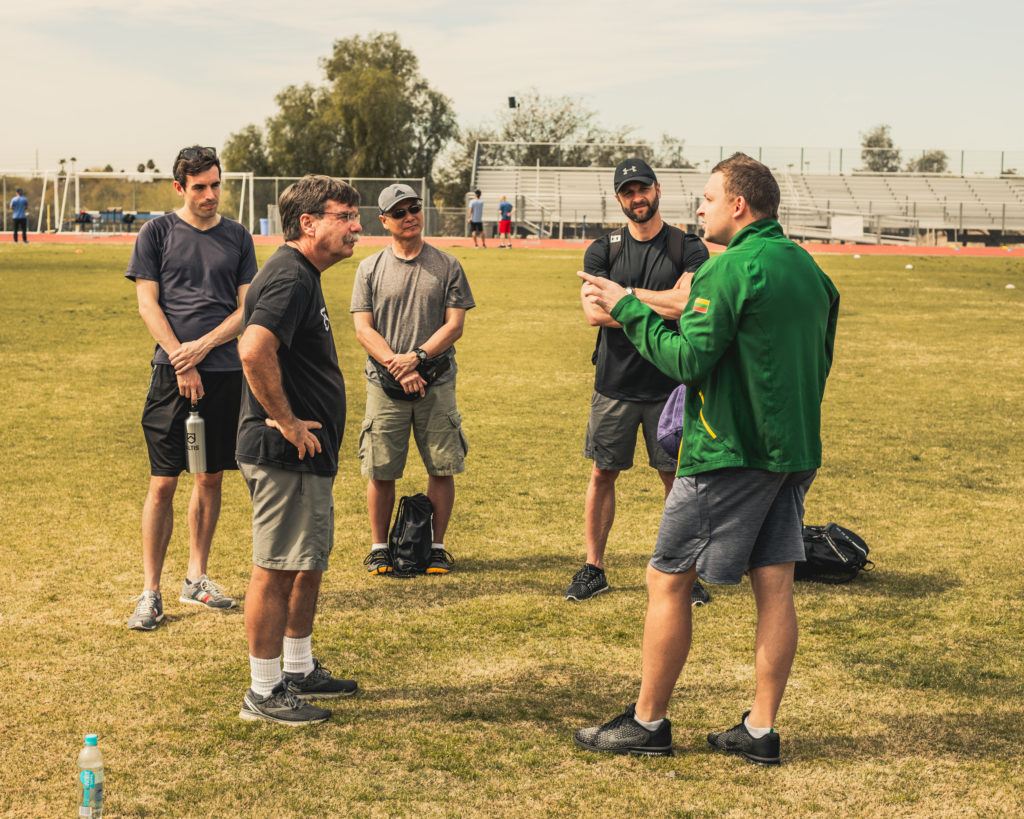 Step 3 is one of the most-overlooked parts of mentorship, but might just be the most-important: the opportunity to join your mentor's network, and to cultivate working relationships with peers.
"When possible, I think mentors should provide highly visible opportunities for the mentee in a variety of settings". – Dan Pfaff
You might read this as "your mentor should try to get you a job", but 'opportunities' are so much more than that, aren't they?
I met some of my closest closest friends in the industry through Dan: Loren Landow, Fergus Connolly, Kebba Tolbert, Derek Evely, and many others.
Heck – I even met my ALTIS co-owners Andreas Behm and Kevin Tyler through Dan!
Without Dan's mentorship, I'm not sure if I would have had "the opportunity" to meet these great coaches. And if I didn't meet these great coaches, I am not doing what I am doing today!
Opportunities to talk with coaches at similar stages of development is essential to our learning.
A supportive community to learn from, and to lean upon, helps us at every stage of our careers – and it is the relationships we build early in our careers that can often prove so important – often lasting throughout our coaching lives, as it has with mine!
I know that whenever I am challenged by anything – whether it be professional or personal – I have a community of peers ready, willing, and able to assist, guide and support me.
This may not be 'mentorship' in the traditional sense – i.e. an experienced mentor guiding an apprentice – but it is still quite powerful.

Regardless of where you are in your coaching career, I encourage you to find a good mentor, if you haven't already.
Look for a mentor who is doing what you want to be doing in ways you want to be doing it. Look for one who will help you every step of the way – and will continue to do so even when you are doing it! Finally, look for a mentor who will introduce you to a deep and rich network of friends, colleagues, and maybe even other mentors!
If you want to be great at anything – the above is not optional.
You need a mentor.
"The mentor-protege relationship is the most efficient and productive form of learning. The right mentors know where to focus your attention and how to challenge you. Their knowledge and experience become yours. They provide immediate and realistic feedback on your work, so you can improve more rapidly. Through an intense person-to-person interaction, you absorb a way of thinking that contains great power and can be adapted to your individual spirit." – Robert Green, Mastery
We are launching The ALTIS Mentorship – beginning this Summer.
Limited to only 18 coaches, The ALTIS Mentorship is your opportunity to be guided by one of the world's best coach mentors – Coach Dan Pfaff.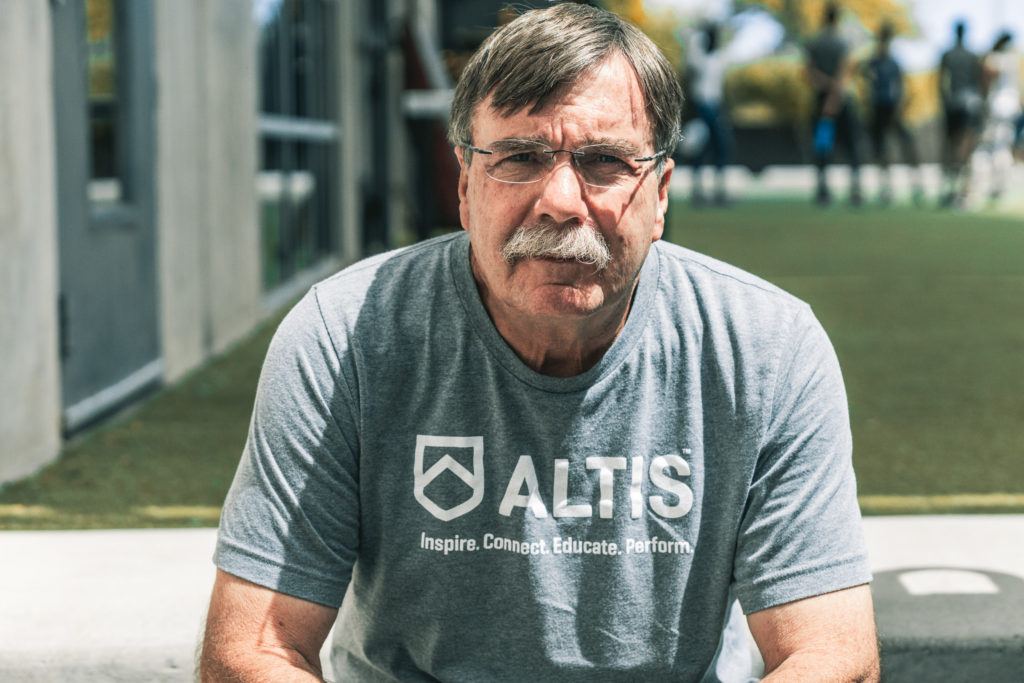 This is sure to change your life – as it did mine!