ALTIS Essentials provides a concise introduction to core topics which underpin successful coaching in all sports.
Become A Better Coach
Designed as an alternative to the Foundation Course, which provides an in-depth critical exploration of foundational coaching pillars, Essentials instead provides a more succinct synopsis – the essentials of the Foundation Course in essence.
Become A Better Coach
Join Coach Pfaff as he shares what you can expect from ALTIS Essentials:
Designed by experts in education and digital technologies, the Essentials Course enables coaches to access premium coaching education curriculum on any digital device, anywhere, anytime. With the ability to start where you last left off, you receive a guided education on your own terms. Our digital education platform delivers 12 modules of engaging discussions with 24 hours of content, graphics, videos, and checkpoints that support your learning experience and encourage critical thinking.
A basic understanding of the key theories, themes, discussions, on core topics examined by the course content.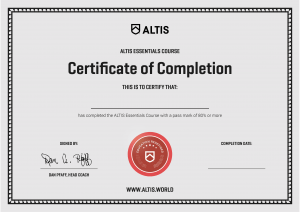 ALTIS Essentials Course Certificate of Completion. In recognition of your achievement you are awarded with the ALTIS Essentials Course Certificate of Completion.
1 Biomechanical Concepts
2 Applied Physiology
3 Functional Anatomy & Kinesiology
4 Concepts For Good Programming
5 Planning & Organization
6 Progressions
7 Cueing
8 Athlete Management
9  Strength Development Fundamentals
10 Strength Exercise Inventory
11 Speed Development Essentials
12 Speed Exercise Inventory
Written by PJ Vazel, Derek Evely, Dr Matt Jordan, Stuart McMillan, Andreas Behm, and legendary coach and educator Dan Pfaff, the Essentials Course shares the collective knowledge of some of the most experienced minds in the coaching profession today.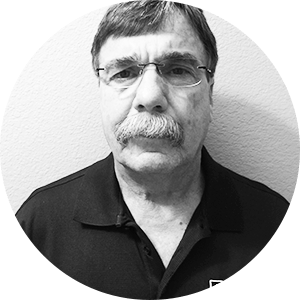 Dan Pfaff, Author
Coach Pfaff is a globally recognized expert in the field of coaching & coach education. With over 40 years coaching across multiple T&F disciplines, Dan has led 49 Olympians to 9 medals and has lectured in 27 countries across multiple sports.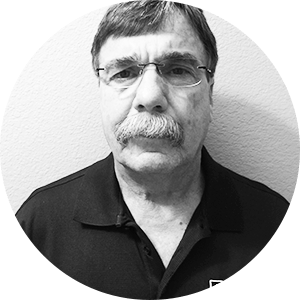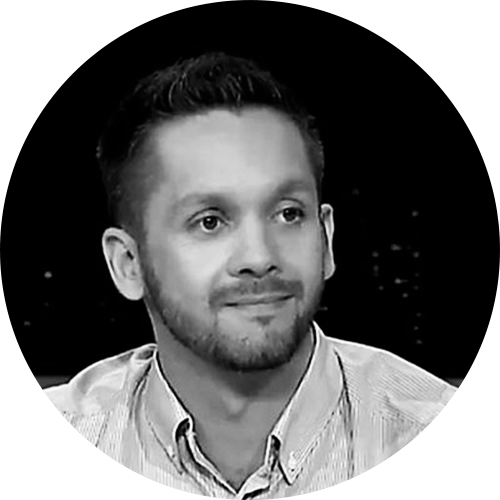 PJ Vazel, Author
A coach since 2004, PJ Vazel is recognized worldwide for being one of the brightest young professionals in sport research and statistics. In addition to coaching, he is a freelance writer specializing in the history and science of athletics performance.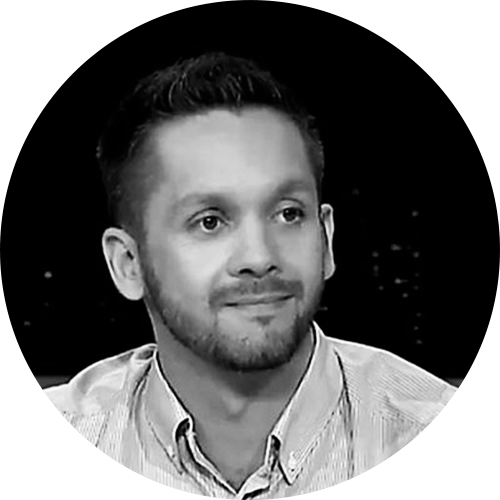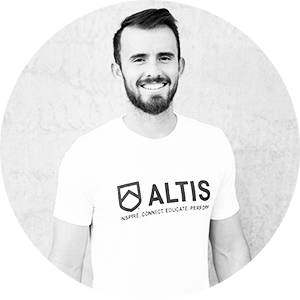 Jason Hettler, Author
In post as Strength & Power Coach at ALTIS since 2014, Jason works across athletes from all event disciplines. He also leads the expansion of both athlete and coach development across a variety of professional sports. Prior to joining ALTIS, Jason completed his B.S. in Exercise Science and worked primarily with NCAA D1 athletes.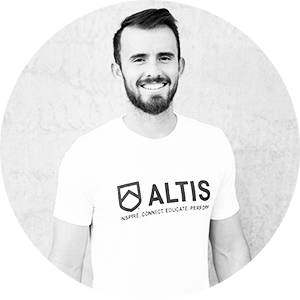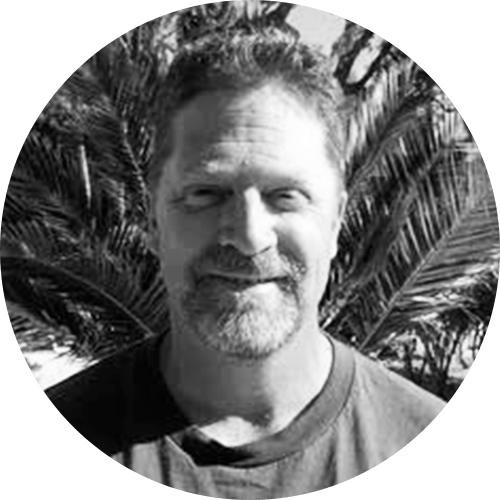 Derek Evely, Author
Hailed as a leading mind on training methodology, Coach Evely has accrued decades of experience working in T&F roles across multiple disciplines. He has also consulted in speed skating, hockey, and worked with various national multi-sport training centers in Canada. Derek has been team staff at 4 World Championships, 1 Olympic Games & the European Championships, among others.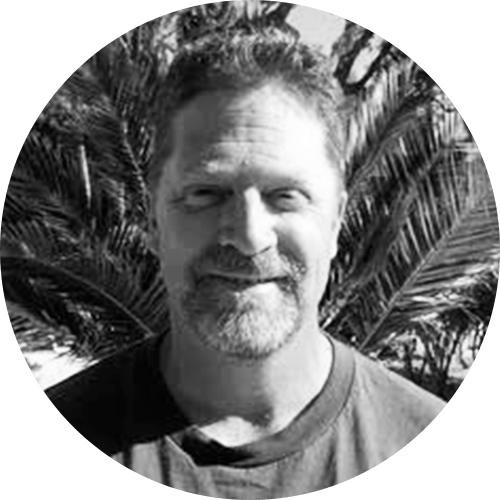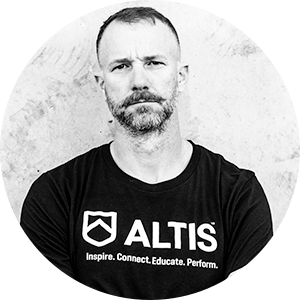 Stuart McMillan, Author
Currently in his 21st year of professional coaching, Coach McMillan is CEO at ALTIS. Stuart has worked with professional and amateur athletes in a variety of sports with a focus on power and speed development, and has personally coached 60 Olympians at 6 Olympic Games; 30 of whom have won Olympic medals.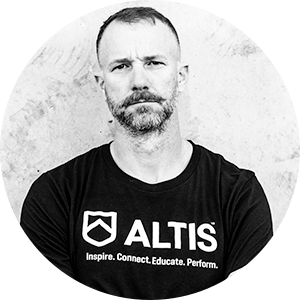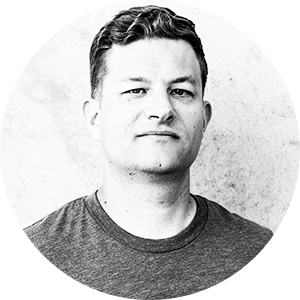 Andreas Behm, Author
Coach Behm is Recruitment & Education Director, and Sprints & Hurdles coach at ALTIS. He is best known, as the Coach of Aries Merrit who – under his tutelage – won Olympic Gold at London 2012 in the 110 m hurdles. Later that same year Aries went on to shatter the existing 110 h World Record with a time of 12.80 seconds. Several other athletes coached by Andreas have also qualified for the past two Olympic Games, and past three World Championships.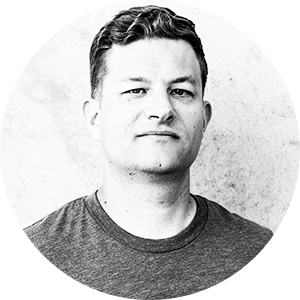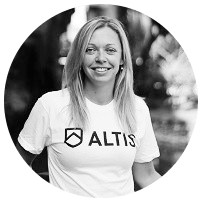 Ellie Spain, Editor
Ellie is a former International Pole Vaulter, with a MSc in Strength & Conditioning and BA in English. Before joining ALTIS as Digital Education Manager, she spent over a decade working in Further Education and as National Coach Mentor in the Pole Vault for England Athletics. A coach since 2009, Ellie has coached multiple age group national champions in the Pole Vault, and is founder of the successful London-based club, West London Track & Field.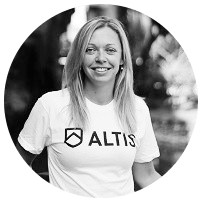 Along with:
Brett Bartholomew, Dr. Angus Ross, Dr. Ken Clark, Dr. Bryan Mann, Shawn Myszka, Dr. Jas Randhawa AGORA Facebook Community
Gain access to the ALTIS AGORA Council, a private Facebook community providing exclusive video content and live streams, as well as a forum for discussion, collaboration, and networking for coaches across the globe.
No, you can choose to enroll at any time you like, and complete the course according to whatever timeline suits you. There is no time limit for completion, and you can study at your own pace.
"Just completed the ALTIS Essentials Course! I recommend everyone to do it. Very good price for such amazing content!" Panagiotis Roxanas | Track & Field, S&C Coach, Research-Teaching Associate | University of Wisconsin-Whitewater
"I really enjoyed the video content as it shared anecdotal real world experiences from the coaches. It provides you with the assurance that what you plan to do and what gets implemented or practiced may never be the same, and that it's ok as the coaching process is an ever evolving relationship between the athlete and the coach."
Brian Doyle | Sports Scientist, S&C Coach
"Just finished the ALTIS Essentials Course. Thoroughly enjoyed it. The last 2 chapters were worth the price of admission on their own. I highly recommend this for anyone looking to expand their knowledge and skill set. I'll be referring back regularly!"
Devan N McConnell | Head of Hockey Performance & Sport Science | UMass Lowell
"One of the most thorough and thought-provoking resources out there for all kinds. ALTIS is values-driven and doesn't needlessly overcomplicate."
Brett Bartholomew | S & C Coach, performance consultant, author & keynote speaker