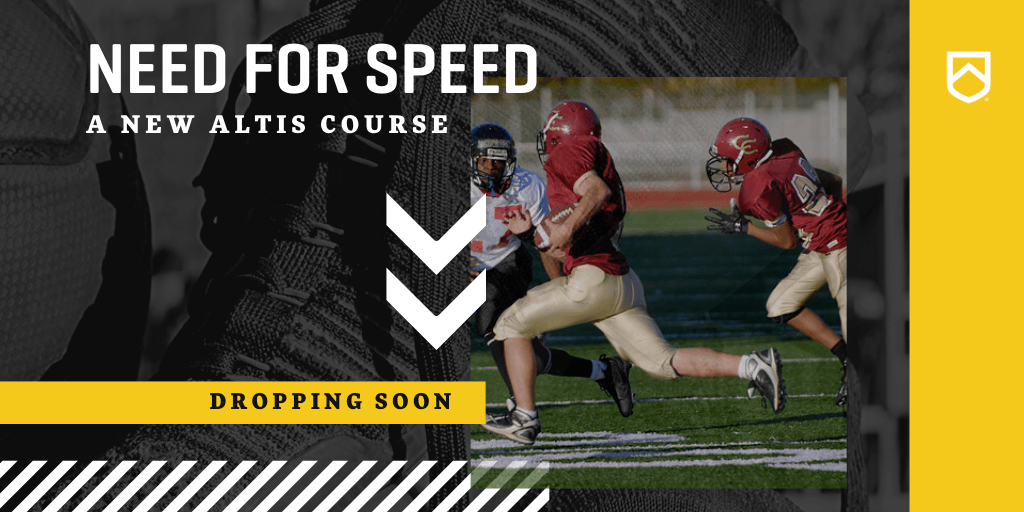 WHY NEED FOR SPEED?
Think about the most exciting moments in sport...chances are, they involve speed. Never before has speed In team sport been more important than it is today. Speed - the ultimate 'game-changer'. Speed is not merely present in all team sports, it is often crucial to the defining moments of the game — the moments that make the difference between defeat and victory.
No longer is it enough to be tactically astute and technically superior; in most team sports, the players now require physical attributes that dwarf those of players only a generation or two ago.
Everyone has it - The Need for Speed.
GET EARLY ACCESS & SAVE 30%
We will finally be releasing the highly-anticipated Need for Speed Course this August!
Want to be the first in? Join our Pre-Sale List now to gain early access to enrollment before the general public and save 30%.
Course Overview
The ALTIS Need for Speed Course progresses from foundational underpinnings of speed development towards practical application. You will learn what speed is, why it is important to team sport, and how to apply it in your sport.
Confused by all the conflicting information about speed in the coaching world?
The ALTIS Need for Speed Course brings clarity to the chaos. Through taking this Course, you will learn WHAT speed is, WHY it is important, and HOW to develop it in your players and teams.
Learn the answers to these questions, and so much more:
Why should we train maximum speed when our athletes never reach maximum speed in the game?

Why should we run in a straight line, when all of our running is multi-directional?

Even if I thought speed was important, how do I schedule it into my already full week?

Sprint speed is different from game speed - so why should we train in an isolated way, when we get enough specific speed work in normal game practice?

What is the application of teaching track & field sprinting technique to non-T&F athletes?

How do I micro dose speed interventions in a hectic schedule?
The Gold Standard in Coaching Education
OLYMPIANS COACHED
BY ALTIS COACHES
OLYMPIC MEDALS WON
BY ALTIS-COACHED ATHLETES
+
COACHES EDUCATED
BY ALTIS