Whilst Andreas Behm is best known for the successes of his athletes on the track as Altis Sprints and Hurdles Coach, he has also been working hard behind the scenes in his role as Recruitment Director, responsible for the continued enlistment of talented athletes to Altis.
We took the time to sit down with the 2012 USOC Track Coach of the Year to get an inside perspective into what this entails, and his plans for the future growth of this process.
Andreas – Altis has already attracted a number of World Class performers and the attention of Federations globally. Can you tell us how the year 1 membership drive was structured?
We used several channels to recruit athletes to Altis the first year, namely – word of mouth from athletes; coaching connections; website traffic and social media chatter. Through these methods we brought in athletes in four different categories … professional full time, semi-pro full time, scholarship full time, and part-time/ weekly training camp options. In addition to this, Altis secured the services of several National Federations.
The recruitment in general was fairly reactive in nature – if we heard from an athlete or coach that they were interested, we followed up with information.
Can you tell us a little more about how the scholarship application process was organized and the procedures in place to support this?
If someone applied on the website we followed up and screened the individual. Only two athletes were pro-actively recruited for scholarships, of which we ended up with one and barely missed out on the other one. All in all we received roughly 25-30 scholarship applications with varying degrees of athlete talent. We are already receiving questions regarding scholarship applications for next year, which is very exciting!
Early on we decided to set the scholarship bar fairly high. If an athlete was going to receive support from us, they needed to demonstrate a fairly high level of achievement coupled with the potential for continued increase in performance. Generally this meant having achieved at a high level in the NCAA system or already being part of their National Team. Additionally we were looking for individuals who would help create, and be part of, an already positive training environment.
All potential scholarship athletes were contacted and talked to via e-mail and phone conversation, as well as screened through their social media conduits. This helped not only determine the quality of the athlete, but also the quality of the person we might potentially be dealing with.
In addition to our scholarship athletes we created the semi-pro tier. This membership was designed for athletes in mind who aspire to make a living in the sport and train in a professional environment to help achieve their goals. This membership package worked very well for us and we were quickly able to build a very solid stable of these athletes with a nice talent base.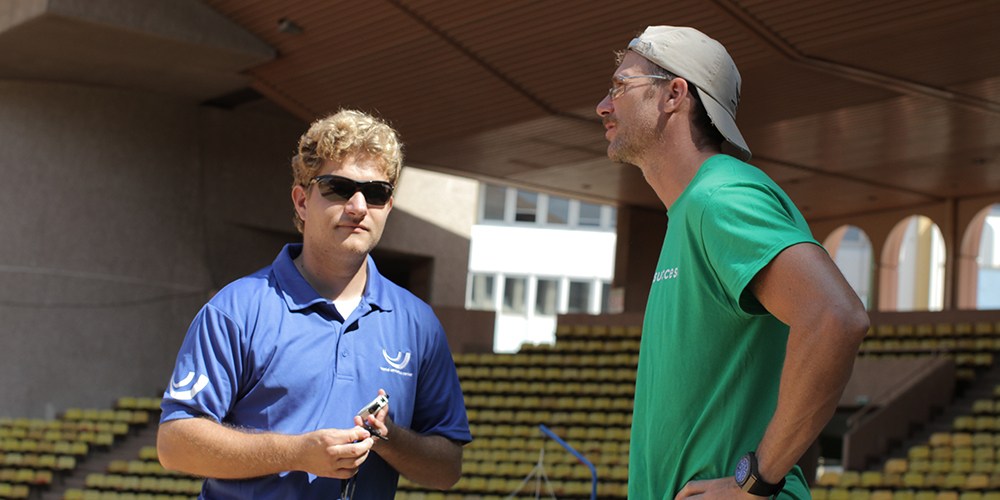 That sounds a really positive start to the recruitment process … what are your overall reflections on how it went?
For year 1 I feel like our recruiting efforts were fairly successful. We have a nice initial mix of pros, semi-pros and scholarship athletes. Additionally we have a nice blend of domestic and international athletes – so a very culturally diverse group. They will from our foundation in years to come. On the whole I am very happy with the quality of athlete and type of person that we currently have training with us.
So moving forward from here into Year 2, what changes do you foresee happening to build upon the continuity and success of the recruitment program?
We definitely will keep all the above strategies in place and will be adding the following elements:
Firstly, a more pro-active approach to scholarship athletes … I want to go out and target some athletes to whom we would like to offer scholarships, as opposed to just waiting and seeing who applies.
Further, throughout the year I will be following and tracking young and promising athletes who are about to finish their college eligibility (and degree) and identify the ones we would potentially love to have, and talk to their coaches.
Second, communication with college coaches to make the college coaching community more aware of our services and why the Altis exists, as they may well have some athletes or former athletes who would be interested in us.
Third, communicating with agents and providing agents with information about Altis, as they may have some clients who would like to come train here.
Lastly, I love the semi-pro group we have here now. We need to bring in equally strong and eager classes of young athletes as we move forward. Track athletes develop at different rates, it was important to us to be able to provide a training environment for some athletes who may be a year or two away from fully breaking through and help guide them through this process.
Great work Andreas, so what's next in terms of moving this process forward and making sure people are aware of what is happening at the Altis?
Well, clearly nothing will help our recruitment cause better than our current athletes running, jumping and throwing well. This will make more and more people aware of what we are building here in Phoenix. Not only do we have the resources to succeed, we will hopefully soon have the results to show as well. All the coaches and staff are working tirelessly to help our athletes improve on a daily basis and work towards achieving their dreams.
We also now have in-place structures I can refer to during the recruiting process. The first year I was selling potential athletes on something that as of then had not existed yet. It is much easier to answer questions now that we have gone through the process as opposed to speaking in hypotheticals.
In order for these new goals to come to fruition, we are also currently in the initial stages of constructing some nicely packaged informational materials to send out to athletes, coaches, agents and corporations. So be on the lookout for those in the near future.
____________________
Andreas, no doubt with such a structured recruitment process in place Altis will continue to grow in status as a highly sought after choice for elite athletes who are ready to work towards success. Thanks for taking the time to talk to us today.
Athletes interested in the recruitment process or with queries pertaining to membership should contact Andreas via our website for further information.