A year on from joining ALTIS, we caught up with former NFL running-back Jahvid Best as he reflects on his first 12 months in track.
"The major difference for me has been diet."
"In football I was one of the smaller guys, so my diet could basically be what I wanted it to be. But now I'm on the opposite end and have to lose weight as one of the bigger guys in track. My diet is a lot stricter than when I was playing football."
Eating is just one part of a lifestyle change for Best who shot to fame with the Detroit Lions before switching sporting codes. His desire to learn and compete are traits that stood him in good stead on the football field, and are now serving him well on the track.
"I am a competitor. So anytime that I get to compete I really love it," commented Best. "I also like to learn new things, especially physically. So picking up this sport, and even though I did it in high school, it really felt like I was starting from scratch. That challenge suits my personality and who I am, so I've loved every second of it."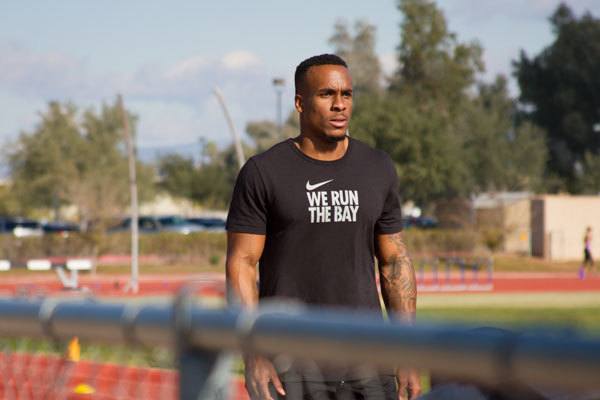 "I love learning new things. There is still a lot for me to learn. It's a big challenge but I love it. Every day brings new challenges in itself."
"There is still a lot for me to learn. It's a big challenge but I love it. Every day brings new challenges in itself."
Under the guidance of Coach Stuart McMillan, Best has ably made a smooth transition. As Best develops his own running style, and whilst taking direction on his sprint mechanics, he is becoming a student of the sport, learning from those around him.
"I'm a power runner. The middle portion of my race I feel is my strongest in the 100m. I'm fairly new to the starting blocks so I'm still trying to master the start. But in the middle portion of my race I can really pick up my speed."
"It's great having more world class sprinters here in Andre (De Grasse) and Beejay (Lee). In the football world, the better players you have, you know that all the players will improve. So just me training with these guys day in and day out will help me."
"You can learn a lot from what they do each day, just by watching how they run, and get a further understanding by talking to them. We have a lot of great athletes that everybody can learn from."
Those details helping Jahvid's development are not just down to what he does in practice or competition as he's quick to recognise. Best is looking ahead to a big second season in track and field but does not want to get too far ahead of himself.
"All the little things that we do outside of of practice is what really makes a difference. Self-therapy is one of the first things I learned when I arrived here. All the little things outside of just training for the 100m that ALTIS do has become an everyday part of my life."
"I take each day at a time and look to learn as much as possible each day. I know that in the long run it will all pay off."
You can follow Jahvid this season on his official facebook page or on twitter @J4hvidbest.