2015 was a definitive year for Hua Wilfried Koffi. He stood top of the podium, winning a gold medal at the 28th Summer Universiade World University Games in Gwanju, South Korea.
It was a title he had been striving for since winning a bronze medal at the same competition in 2013.
Since last summers' success, the Ivory Coast National Record Holder in the 100m and 200m has also changed continents; relocating from China to the USA to maximize his chances of reaching his athletic potential. We caught up with the former student of Shanghai University to hear his plans as he settles in to his first track season based out of Arizona.
"I first felt like I was really moving towards being successful beyond the World University Games gold during the IAAF World Challenge in Japan last year. When I won that meet I felt I could realistically work at an elite level," reflected Koffi. "At this stage, I also came to the realization I needed to find a good group to train with, to be able to compete against the best."
The change in approach has certainly helped him:
"I met Rohsaan Griffin – one of the ALTIS coaches – in 2014 in China. He told me about the set up here in Phoenix. I was training alone in China at the time, and he was sometimes helping me with training. He suggested I join ALTIS to get established with a good group, coach and therapist."
"I needed an alternative to training in China alone, and since being here in Phoenix from November 2015, I feel like I'm really being helped towards becoming an elite athlete at the top of the global stage."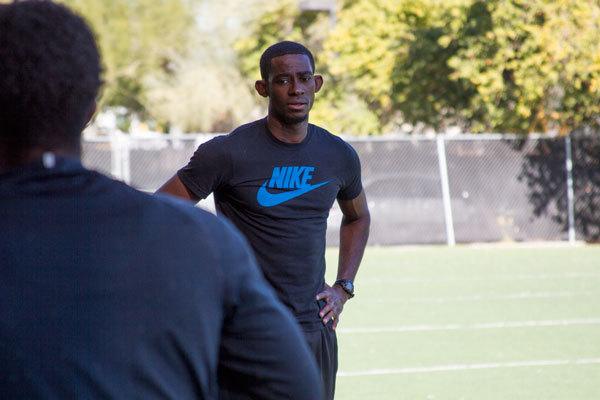 "ALTIS do a lot of things differently, and there's certainly a big difference between the training I was doing before, and what I'm now doing here. Stu [McMillan] is really pushing me hard in training – and it's working really well. To be able to train in a group with people like Anaso, has been great. It's a really good environment here – there's really no winter here, and we can train outdoors all of the time – which is a huge advantage."
"It's a really good environment here – there's really no winter here, and we can train outdoors all of the time – which is a huge advantage."
Having both rivals who are friends in the group is also proving to be a positive influence on Koffi, who was previously training alone before joining ALTIS.
"Anaso is a good friend of mine who pushed me to come here, I talked with him in the African games last September. When you get this kind of guy in your group, it's a great group."
"When I saw the athletes here, I knew I needed to be part of it – it's a really fast group. I feel like it's really important to really be pushed. I knew I couldn't stay in the same position I was in at University level… I needed to push forward to a place where I would have a good group to train alongside."
… A group which provides world class competition in both the 100m and 200m for Koffi; but despite having competed successfully in the 100m, the 28-year-old has the 200m as a firm favorite.
"I like 200m more – especially since I came here: Stu has taught me a lot, and shown me a lot of ways to execute the race better – he has certainly made me more proficient.
"I really want to clock something under 20 seconds this year, so my focus is achieving outdoor success this year: The big goal is of course to shine at the Olympic Games."
Koffi, who before the move to Phoenix, was a PhD student at the Shanghai University of Sport in China, has now put his studies on hold to concentrate on achieving this success.
"I finished my studies this year, as all my focus is all on the Olympics."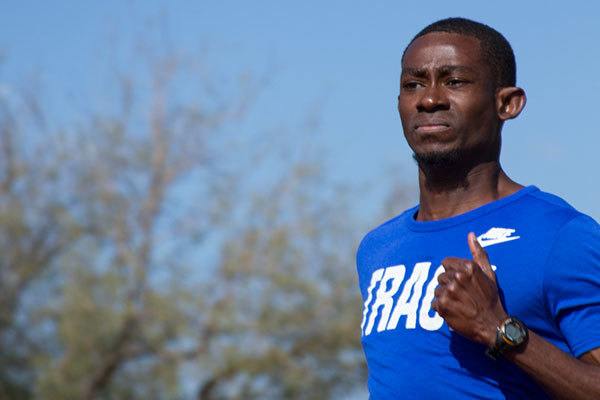 Success at the Olympic Games is certainly something that would be welcomes by his supporters at home. Representing the Ivory Coast means a lot to Koffi, and he is grateful for the support his federation has given him with his decision to move to the USA.
"I spoke to the President of my Federation – he helped and pushed me to make the best decisions I could, and supported me with my choices."
The support of having his good friend Anaso Jobodwana at ALTIS, has also been a real boost for him.
"Having Anaso here in Phoenix was definitely an appealing factor for me. He has been a good friend of mine since 2013, so I'm really happy to train with him."
"We also did the World University Games together in 2013 together. He was gold medalist, I was bronze medalist. He's clearly moved up from there to World Class, so I'm really happy to be able to train and compete with him every day."
"My aim is to achieve the same level of success, and this goal really pushes me."
You can follow Wilfried Koffi on twitter and track his progress on this website throughout the track season.