Following last week's series of record breaking performances, this weekend didn't disappoint. With results once again escalating, highlights include another National Record breaking performance, a World Championship qualifier, Personal Records and Season's Bests.
Chula Vista – OTC Elite Meet
Hafsatu Kamara
100m: 11.78s
200m: 24.14 (+3.0)
The 23 year old CSUN Graduate who represented Sierra Leone at the Commonwealth Games in 2014, ran a wind legal 11.78s to set a new National Record at the OTC in Chula Vista this weekend. The result was no surprise to Coach Boykin, as training improvements came to fruition: "She has been steadily progressing her technical model this season and the times are coming along with it."
Decathlon: 8081 points
Curtis had a strong weekend, coming away with a World Championships qualifier, just three Points shy of what would been a 8084 PR score. He set a PR in the 100m of 10.52 with a legal wind of 1.9 to get things started, following up with a PR jump of 7.84m in the long jump. The rest of day 1 was solid and he finished with a total of 4356 – his second best Day 1 total ever. Day 2 started off solid with a 14.51 hurdles, and kept going from there.
Curtis was thrilled with the result: "I went in going for the US Championships standard, and ended up getting the World Championship standard with 8081! Next stop is USA Nationals and from there the top 3 there go onto worlds in Beijing. It was such a fun group to compete with, and an amazing place to be this weekend."
Reflecting on the weekend's work, Coach Pfaff was optimistic about the future for the Duke University Graduate: "It was a solid weekend for Curtis as he addressed errors made in his first competition of the year, and corrected them as strategized in debrief meetings. He still left some points on the floor in a few events, and of course – we await the healing of his elbow from surgery which has limited javelin work and intensity. He is clearly on the correct path for 2016."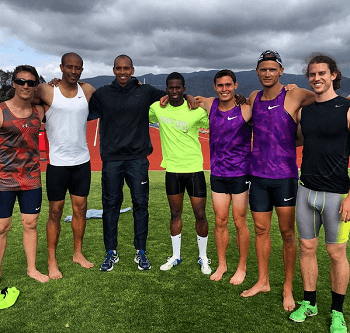 Heptathlon: 5835 points
"Kaylon had another really solid day 1 of the Heptathlon, setting a new Day 1 PR score of 3697" Coach Hierholzer explained. "This came as a result of a PRs in the 100 hurdles 13.17s (1.4), an equal PR in the HJ of 1.80m, and a windy 200 PR of 24.34 (2.8). Day 2 wasn't what we were hoping for, but I think we know she is capable of much more. As coaches we are going to work with Kaylon to reframe how we approach those events from an emotional and mental perspective. We believe she is capable of scoring well over 6,000 points. Still, if you look at year she is putting together after such a big break from the Heptathlon its going really well."
100m – Para: 17.66s PB
Long Jump – Para: 3.42m
Impressed with the result coming off the back of Henderson's American Record in the Para LJ last week at the Desert Challenge, Coach Hierholzer was upbeat about the future for Lacey: "Performances were strong again this weekend. She backed up last week's work with a new PR in the 100 of 17.66 seconds. She then came back and jumped just 4cm shy of her American record in the long jump twice. Overall her mindset, mental resilience, and competition demeanor were much improved. Lacey is getting more comfortable taking risks, and we think this is going to continue to build confidence for her."
Triple Jump: 16.34m (2.8)
Despite some unfortunate wind conditions, progress on Key Performance Indicators was strongly demonstrated from Coach Hierholzer's perspective: "Damon and Josh Honeycutt both jumped windy 16.34m in the triple jump. Damon did a really good job of working on our jump KPIs throughout the competition, and I am sure there is more to come."
Women's Long Jump: 6.43m (2.0) – SB
"Malaina took 4th in a really good field, and set a wind legal Season's Best of 6.43m. This is just 1cm off of her lifetime best" said Kyle Hierholzer. "Malaina is definitely ready to hit some big jumps, and I would not be surprised if we see some really good things from her down the road. She has a few things she's still got to get ironed out in her approach, but overall the job she has done this year has been really impressive."
Melinda Withrow
Pole Vault: 4.50m
Following on from her 4.60m clearance earlier this month, Melinda won against a strong line-up of Vaulters this weekend: "She cleared 4.50m, passed 4.60m, and took 3 attempts at 4.70m" said Coach Hierholzer. "Her season is going well, and her clusters are getting better."
Tucson Elite Throws Classic
Shot Put: 18.55m PR
In the Arizona heat, Mike smashed his previous PR of 17.98m – set at NCAA DII National Championships in 2014. Coach Sheuerman was delighted with the performance: "The Tucson Elite meet is a fantastic opportunity for some of the best throwers in the country to go head to head. Mike has been ready for this throw for some time and we are pleased he was able to take advantage of the good competition to bring out his best. This meet was a fantastic learning experience and he is capable of farther throws. We are looking forward to the rest of the season to see how much more he will improve."
You can check out Mike's PR here:
HUGE PR for @MadMike0053 in the first rd. 18.55m #escalate pic.twitter.com/dHD1yjhr0u

— @LTIS(@ALTISworld) May 23, 2015