Former Detroit Lions running back, Jahvid Best, has joined Altis.
The 26 year old – a first-round pick in the 2010 NFL Draft – is no stranger to speed. After running 10.35s for the 100m in High School, Best played three highly successful seasons of college football at Cal where he racked up 1,580 yards in 2008, and 27 rushing touchdowns over his last two seasons there. Following 4 years then playing in the NFL, Best took a break from football due to multiple concussions.
Now settled at his new training base in Phoenix, enjoying the next chapter in the warmth of the Arizona sun – Best's competitive flame is ablaze – with sights firmly set on a career in Track & Field.
We sat down to find out more…
Jahvid, great to be able to welcome you to the Altis family! Let's start with your move across to track. After taking a break from the NFL in 2011 you moved back to UC Berkeley to finish your degree, where you also took on the role of student-assistant coach. What then prompted your decision to move across to Track & Field?
When the Lions released me in 2013, I knew my football career was over despite how bad I still wanted to play. I wanted to be a part of football in any form so I was ecstatic when UC Berkeley let me join their staff as a student-assistant coach. I had a great time coaching and helping out with the running backs at Cal, but I still had a burning desire to compete as an athlete.
What made you choose Altis as your training base?
I started training with the Cal track team while I was taking classes, and I realized that track was something I really wanted to pursue. I knew that if I was going to do it, I had to give it 100% effort. My friend and former teammate Malaina Payton was already training at Altis and told me about it. I called them and came out for a couple of weeks as a trial. Within a couple of days I knew it was the place I wanted to be. I was impressed by the coaching staff and other athletes, and felt like it was a good fit.
Tell us about the environment here at Altis – what is it like from an athlete's perspective?
The environment at Altis is amazing. That was one of the greatest selling points for me. There are world-class athletes from all over the world working hard everyday, competing against each other and still maintaining a close relationship with one another. The coaches are very hands-on and do a really impressive job of teaching and explaining the techniques in detail. Also, the therapists are incredible and are available to me every day to fix any ailments.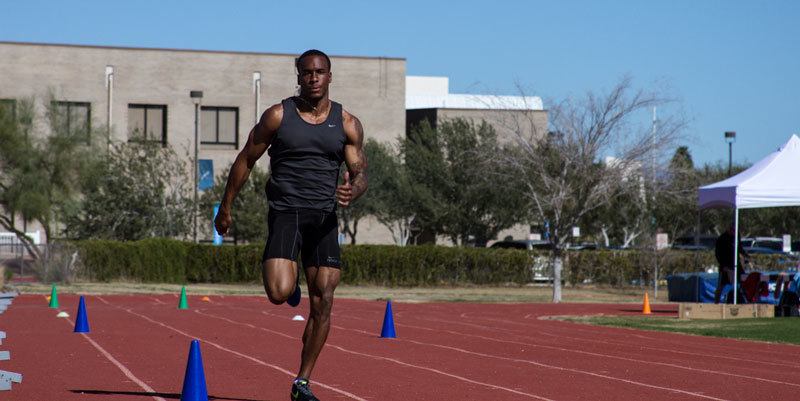 How does the training compare to what you were doing as a footballer?
The training for track is actually much more demanding than for football! I actually have to lose 20lbs to be able to run at optimal speed, whereas with football it was all about being big, heavy, and strong. Now I have to be just as strong, but way leaner, so my diet is much more strict, and my training is less in the weight room and more focused on speed endurance and sprint mechanics.
How are your finding life here in Arizona? Is there anything you don't like?
It wouldn't matter where I was living, I am here to train, so I would be happy anywhere – but I do like Arizona. It's similar to the Bay Area suburbs, just with a lot less traffic. Although, I haven't been here in the summer heat yet, so check back in with me in a couple months!
"The training for track is actually much more demanding than for football"
What do you think Track & Field can learn from Football as a sport, and vice versa?
They're so different it's hard to say, but I do wish Track & Field would get a bigger American following. People really care when it's the Olympics, but it would be nice to have a bigger fan base during the years in between the Games.
You've been quoted as saying the experiences you had as a player "made [me] the person I am today, and I'm grateful for that." What did your time playing football teach you – both as a person, and an athlete?
Football has taught me countless lessons over the years, but the one that resonates me with me the most is trust. Football is a game of trust – in your teammates, your coaches, the play calling, your technique, and yourself. It is the ultimate team sport, so it takes everybody together on the same page at the same time to have a successful season. Also, it taught me to ride the waves of life. There are a lot of ups and downs in football, and no games are ever perfect so it teaches you to just roll with the punches.
In your opinion what qualities does an individual need to succeed in professional sports?
Focus, patience, and heart.
What advice would you give to young sportsmen and women seeking to succeed as a pro sports player?
Embrace the challenge. When you watch TV and see all of these great athletes, don't forget that they weren't always where they are now. They struggled too. So when you reach an obstacle or a flaw in your game, attack it and don't hide from it. Make it your strength. Learn to love the grind.
"When you reach an obstacle or a flaw … attack it and don't hide from it. Make it your strength"
What are your short-term goals in Track & Field?
Master the technique of sprinting.
And longer term?
To make a career out of Track & Field.

Some really fascinating answers. Thanks Jahvid! To finish we're going to throw a few quick fire questions your way…
Favorite movie?
Iron Man.
Favorite meal?
Steak, Lobster, Mashed Potatoes, Mac & Cheese, Greens – and Cheesecake for dessert.
What's on your pre-meet playlist?
Pusha T, Kool John, Wiz Khalifa, Mac Miller.
Any pets?
Two English Bulldogs – Maggie lives with me and Otis lives in California with my parents.
Favorite quote?
"Courage is not having the strength to go on, it's going on when you don't have the strength."
Tea or coffee?
Neither. Nordstrom Carmel Ice Storm.