After winning the 200m Diamond League race in Birmingham on Sunday, we caught up for an exclusive chat with Canadian sprint sensation Andre de Grasse.
"I'm feeling pretty good about my run," reflected Andre. "It's been about going out there and executing my race."
"I thought I could have done a lot better executing the bend part of my race. I came off the bend and didn't really know where I was in the race. I felt like I was chasing two other guys in the corner of my eye, I just tried to keep relaxed and keep going as I know I have my top end speed and my endurance is there and I knew if I did that, coming away, I'd have a good race. It was a head wind as well, so to run a 20.1 into a -1 head wind is a pretty solid performance from me."
Andre joined ALTIS in January and has settled into his life in Phoenix as part of Canada's 'desert dozen'.
'…you've got to bring that same intensity to practise'
"I've got used to the new environment. I've spent the last couple of months getting to know Stuart (McMillan), the other coaches and therapists; to feel out everything. It's been good getting to know those guys, they're brilliant."
"I've had to adjust to the professional side of sport. In the NCAA you get to run all the time. Now, you've got to bring that same intensity to practise now as a professional, because when you go over to Europe or Asia, it's one race and that's it."
"It's about getting used to bringing that intensity all the time, I'm not as used to running that fast so quickly. The pressures on now, I've got to perform first time and produce a fast time."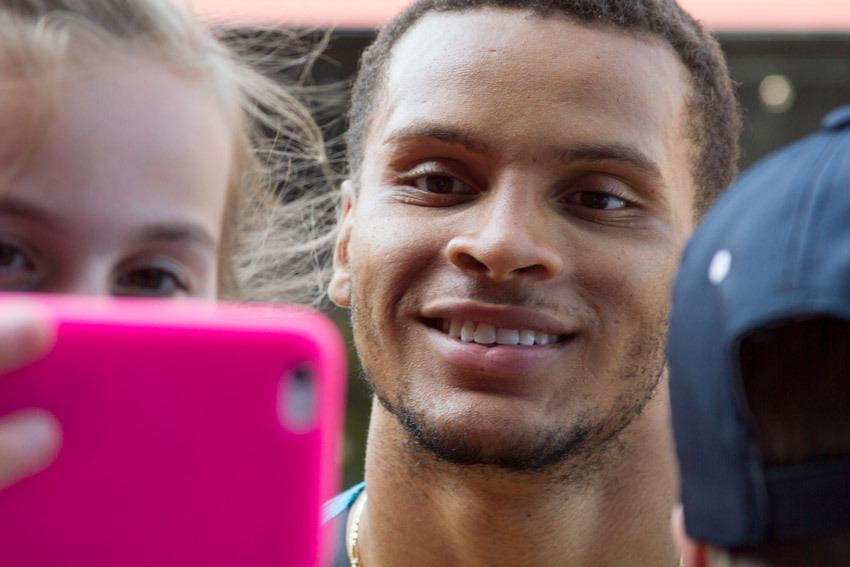 The Canadian brought home a gold medal in both the 100m & 200m at the Pan-Am games last year, as well as two bronze medals at the World Championships in Beijing (100m & 4x100m).
"Athletics Canada have been really supportive, and have been happy with my performances. Of course I always have my family and friends watching me as well. This year CBC is covering the Diamond League, so now my friends and family get to watch me live so that's pretty awesome that Canada's doing that."
There's a buzz around Canadian sport at the moment and as a basketball fan, Andre knows the impact sport can have.
"It's been a historic season for the Raptors having made it to the Eastern Conference Finals – that's big, because we have never had that before."
"I went to two play-off games, game seven against Miami and game three against Cleveland. I've been a fan of the Raptors since the Vince Carter days and to see them build and become a better team with players like Kyle Lowry and DeRozan, and Canadian Cory Joseph supporting, it's been amazing. Just two games away from an NBA finals, I feel next year's going to be a great season for them!"
You can follow Andre de Grasse and his progress on his twitter feed.