The ALTIS men's short sprint crew just got a whole lot faster.
Already boasting a line-up including Beijing World Championship bronze medalist Anaso Jobodwana, African Champion Wilfried Koffi, NCAA Champion Ameer Webb, Canadian Olympian Akeem Haynes, Samoan speedster Jeremy Dodson, World Championship 4x100m relay bronze medalists Justyn Warner and Dontae Richards-Kwok, we are excited to welcome NCAA Champion, Pan Am Games Champion and World Championship 100m bronze medalist Andre De Grasse to the mix.
It was quite the season for Canada's new sprint superstar. Beginning with what may be the most impressive sprint double in history, where he doubled up at NCAA Championships – winning the 100 in 9.75 and the 200 in 19.57 barely an hour later, Andre went on to also double at the Pan Am Games in his home city of Toronto, before winning bronze in Beijing with a new PR of 9.92 in what was his 52nd race of a long season!
It is now well documented that Andre began track and field just three years ago, when Canadian coach Tony Sharpe watched him at his first high school meet in 2012. His meteoric rise since then is reminiscent of fellow Canadian, Olympic Champion, and former world record holder Donovan Bailey, who won Olympic gold in just his third year of serious training in the sport (coincidentally, Donovan was coached by now ALTIS Head Coach Dan Pfaff). "I am a huge fan of Andre – in the history of Canada, there has only been two 100m Olympic Champions, and he has now put himself in a great position to be the next one", said Bailey.
"Andre has just finished an amazing season – virtually unprecedented in the history of the sport."
An extremely humble, and respectful athlete, Andre gives all credit to his success to his coaches over the years – including club coach Tony Sharpe, and his coaches at Coffeyville Community College, and at USC. His recent decision to turn pro, and sign a multi-year deal with Puma, has now led to him making the short drive east to Phoenix to link up with Coach Stuart McMillan's short sprint group. It is a challenge and an opportunity that is not lost on Coach McMillan: "Andre has just finished an amazing season – virtually unprecedented in the history of the sport. His coaching team at USC clearly have done an exceptional job; we just hope we can build on this great momentum, and help Andre fulfil all of his objectives – not only during this Olympic season – but for many more seasons to come. We have already seen how well Andre has fit in with the training group – and we look forward to an awesome year."
Andre's goals for the season include making the Olympic team, standing on the podium in both the 100m and 200m, doing "something special" in the 4x100m relay – and breaking Bailey's 20 year old Canadian record (which he shares with Bruny Surin).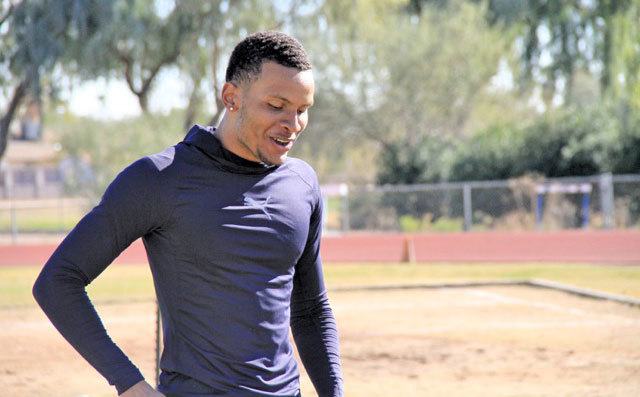 Bailey, for one, hopes he can do it: "I really look forward to his upcoming season, and I expect him to break my record. He is in program that I know very well, with a coach I trust – and I am very confident that he will run fast."
Check out the latest ALTIS podcast for an exclusive interview with Andre…
LATEST PODCAST