Altis was represented across the globe this week, with athletes competing across three continents and five cities. Highlights included World Championships qualifiers, Personal Records, Meet Records, and Season's Bests – as strong performances shone through; despite the challenge of gloomy conditions for many.
Oceania Championships
Jeremy Dodson competed at the Oceania Championships in Cairns, Australia against the top athletes in the region. In a hectic three days, Jeremy ran 7 races – winning the 200m and coming second in the 100m. Both performances were Season's Bests, and with the 200m win Jeremy also became 2nd Altis athlete to qualify for the 200m in Beijing – the first being South African Champion Anaso Jobodwana earlier this month.
Although looking forward to bigger and better things this season, Jeremy was satisfied with his trip to Australia: "I only had one day between travel and racing to recover from a 15 hour flight. Usually I cannot bounce back like that, so I am satisfied. My starts were not ideal, but finishes were strong. I'm now ready to get back to Phoenix, and start running fast again!"
Jamaican Invitational
On the opposite side of the globe, the IAAF World Challenge meet at the National Stadium in Jamaica proved to be a successful venue for Brad Walker, Mike Thomas and Vikas Gowda – with the trio all placing in the top three in their events.
In the men's Pole Vaulter Brad Walker won the meet with 5.60m. "After winning the meet, Brad then passed to 5.80m – having previously made 5.70m two weeks in a row" explained Coach Hierholzer: "He is excited about things and looking forward to his next comp at Chula Vista."
Mikel Thomas placed third place in the men's 110m hurdles with a time of 13.44s. Coach Behm was delighted with the performance: "We are very proud of Mikel – who showed great competitive effort. For him to come in and claim third in a very competitive field is awesome. Mikel will be the first to tell you that this wasn't his best technical race, however if he can run like that and still run 13.4s, then look out for when he does run a clean race!"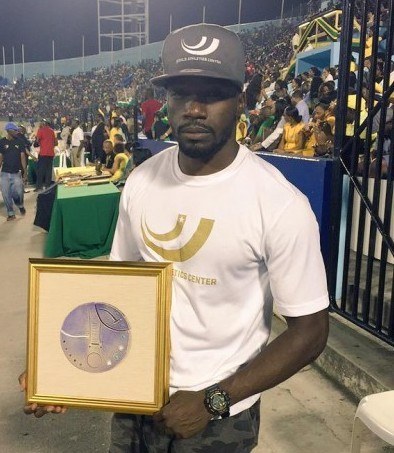 In the Discus, reigning Commonwealth Champion Vikas Gowda showed strong form, setting a new meet record of 65.14m to claim the win. It was the second straight win for Gowda who also won the event the last time discus was included on the schedule, and marked the third result in three weeks over 65m.
"Vikas had another solid meet over 65 meters even after his weights plan reloaded this week" explained Coach John Godina. I am impressed with his focus this season. He is doing a great job avoiding any backward steps in technique, training and competition performance. I expect good things as the year goes on."
Manchester City Games
On European turf, Aries Merritt battled some chilly conditions in the north of England to seal 2nd place in the 110m hurdles at the Manchester City Games in a time of 13.32s. "Aries missed a little at the start, but otherwise had a very fluid race. Particularly his hurdle technique was very solid" said Coach Behm. "The fact he was stride for stride with Orlando Ortega (the hottest hurdler indoors) the last few units and that they tied for time is a good sign of things to come."
Longmont, Colorado
At the St Vrain invitational in Longmont Colorado, several athletes competed in less than ideal conditions. Throughout the meet the weather was 45° (or 8° Cel) with heavy rain storms, but this didn't dampen spirits for Jahvid Best – who won the 100 m dash in a lifetime personal best of 10.33s.Altis team-mate Albert Huntley followed close behind in 10.36s, and Ryan Milus finished in 3rd place running 10.43.
In the women's 100m Candace Jackson won in a time of 11.69s, while Hafsa Kamara finished 2nd in a season best of 11.88s.
The men's 400m saw Joel Lynch win a thrilling race in a time of 47.48s, nipping Will McCaskill (47.49s) at the line.
"It was not an easy task we were up against today given the conditions" said Dustin Imdieke. "I was impressed by how the athletes managed the environment and competed hard despite the weather. Sometimes championships will be run in adverse conditions, it is important that athletes be ready to compete no matter the situation"
Altis Invitational
On home ground the first ever Altis Invitational was hosted, producing some strong performances despite some blustery conditions.
In the women's Long Jump, Abigail Irozuru produced a Season's Best to take the win with a wind legal 6.61m which marked the best opening jump of her career.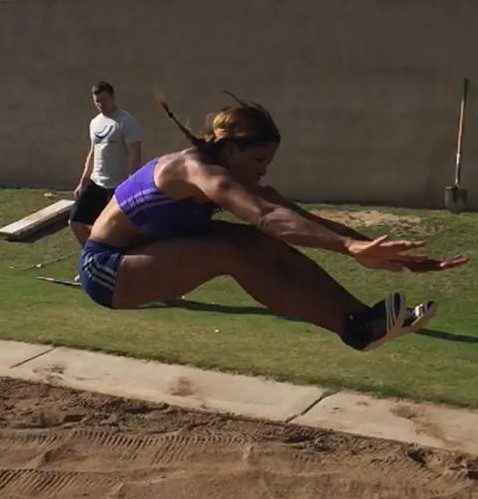 Also in the Long Jump Allison Reaser came 3rd with a SB included in a series of 5.96m (windy) and 5.83m – (wind legal). "Allison put together her best long jump series of the year, and is returning to form after being a little dinged up during the indoor and early outdoor season" said Coach Hierholzer. "We are excited to see how things progress for her at the upcoming Multi in Chula Vista on May 22nd."
Lacey Henderson also gave a strong showing, producing a PB performance of 3.67w, 3.45 – wind legal. "Lacey was probably our MVP for the meet" said Coach Hierholzer. "She held onto her cues, and made good adjustments during the meet. Fortunately she was able to catch a legal wind on her final attempt, and things turned out well. Things look promising for Lacey as the season moves forward for her."
Josh Honeycutt won the Men's Triple Jump with a series including 16.40w (2.6 m/s), and 16.11m – (wind legal) to claim a season's best.
"Josh put together a really good series of jumps in his first meet from his longer approach. Winds were everywhere from 1.6 to 6.2, and both Josh and Damon each recorded no fouls" explained Coach Hierholzer. "This speaks to their mindfulness of our approach development model, and we are very happy with their work on that front."
In the Pole Vault, the meet highlight came from Melinda Owen Withrow who claimed a new PR of 4.60m – also a World and Olympic A standard; moving her to equal fourth with Australian Alana Boyd in the global lists.
Also in the Pole Vault, Tori Pena (Ireland) produced a SB vault of 4.40m, and Kylie Hutson – in her first competition in over a year also cleared a SB of 4.40m.
In the Men's Vault, Nick Mossberg produced a SB of 5.56m and Mike Woepse cleared 5.46m.
PVCC Throws Meet
Altis throwers were represented in force at the PVCC throws meet.
Men's Shot Put – Mike Thalken – 17.61m
Men's Discus – Austin Gamble 58.35m PR
Women's Discus – Rachel Longfors – 57.14m, Anna Jelmini – 56.39m
Women's Javelin – Ryann Krais – 39.93m, Maddie Buttinger – 34.00m, Allison Reaser – 36.02m.
"Our athletes are, for the most part, where we expect them to be given their training state at this point in the season" explained Coach Sheuerman. "We are excited to see what everyone will be able to do with the rest of the season, especially as the throwers head next to the Tuscon Elite throws meet on the 21 and 23rd of May".
Oxy Invite
At the Occidental Invite Shante Little showed promising form, as she dipped back under 57 seconds for the 400m Hurdles following a strong run from lane 2 – finishing in a time of 56.94s.
Looking forward to next weekend, Altis athletes are set to head to Shanghai and Cayman as the competitive campaign continues.