Are you curious about the Foundation Course? Do you want to know more? Our Digital Education Manager – Ellie Spain is here to help. In this article, she shares a behind the scenes journey into the making of our inaugural Digital Coach Education course, and the objectives behind its development.

What was the objective of the Foundation Course?
In the summer of 2016 I first heard the brief for the Foundation Course – and I was excited. I leapt at the chance to manage the project as I was certain the course could bring something new to the global Coach Ed table. Fast forward to December 2017 and the product is now complete. It's been a great journey, working with some incredible people. Our objective from the outset has been to deliver a new breed of course – one that can update and improve upon Coach Education as a whole – and bring a more applied approach to fundamental coaching theory. As such, it has been a critical consideration throughout the creation of this course to ensure theories and concepts are not only explained, but then translated through the lens of coaches who have a deep understanding of their practical application: Coaches who deeply understand how to apply and adapt fundamentals in a manner relevant to a range of sports, athletic abilities, and coaching scenarios.
Who is this course for?
This course is written to cater for coaches of all speed, power sports – at all levels.
How is the Foundation Course different to all the other courses on the market?
As said, first and foremost we wanted to make this course applied and relevant to what coaches need 'on the ground' – not just a bunch of theory siloed into disparate pieces. However, another integral element for us has been to create a product which serves as a living document: one which will continue to evolve and update as new information becomes available; as new research is applied; as we learn more. This method of creation is founded upon the embodiment of our continued efforts to promote the ALTIS philosophy of lifelong learning, improvement, and evolution. This – in our opinion – is necessary to keep pace with the ever evolving landscape of the coaching profession.
Further, we wanted to create not just a tick-box stand-alone 'course', but one which links to a global educational community, serving as a platform from which coaches are encouraged to network, interact, and build professional relationships. It is firmly our opinion that this collaborative 'learning in motion' is something that our profession must include if it is to continue to grow and advance. As such Foundation Course membership includes access to our interactive AGORA Council on Facebook, where coaches can digitally discuss topics with ALTIS, and other coaches; post questions, and access the necessary support as they work through the Foundation Course.

Who authored the course?
I was privileged to work with some incredible minds through the production of this course. The authors were: Dan Pfaff, Stuart McMillan, Dr Matt Jordan, Derek Evely, PJ Vazel, Andreas Behm, and Jason Hettler. In addition, we have had some really outstanding guest contributions from an amazing lineup of coaching professionals, including: Brett Bartholomew, Dr Ken Clark, Martin Bingisser, Dr Angus Ross, Dr Jas Randhawa, Shawn Myszka, Greg Hull, and Vince Anderson. When you consider the combined experience and intelligence of this group of people, it's really quite mind blowing we managed to pool this collective together.
How is it structured?
The Foundation Course is comprised of twelve core online-only modules, designed to be taken in series. We have then broken these modules into three semesters, each including four modules. This use of structured semesters is for two reasons:
A) To provide structure for the release of the course in its inaugural year.
B) To offer a method of flexible purchasing options for users.
The structure means coaches can study the course either by purchasing access outright, and working through the modules in series; or by purchasing one semester of four modules at a time and working through the semesters in series. We have deliberately set up the course to be taken in a specific order as each module builds on the one previous to it.
Each module is then broken into a number of sections, which either have specific learning checks, or suggested tasks to complete before progressing onto the next section. In addition, content is complemented by a variety of definitions and glossary terms; discussions and explanations; graphics to illustrate key points; videos to complement the content; section summaries, and a variety of further learning resources and references designed to encourage critical thinking.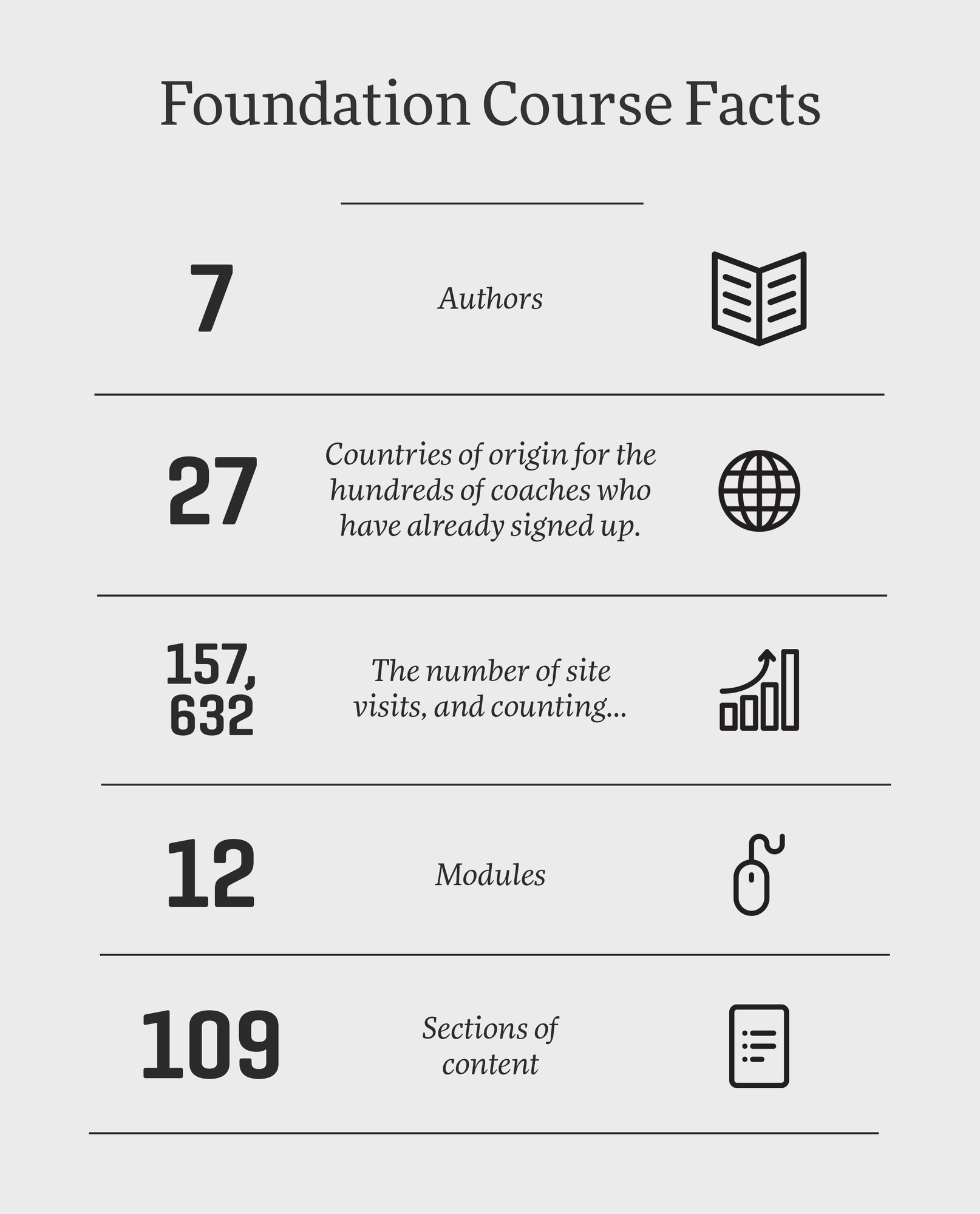 What is the specific content of each module?
The 12 modules are comprised of a total of 109 sections.
Module 1 – Biomechanical Concepts
 1.1 Introduction to Biomechanics
 1.2 Branches of Biomechanics
 1.3 Newton's Laws of Motion
 1.4 Biomechanical Terms and Concepts
 1.5 Motion
 1.6 Descriptors of Movement
 1.7 Flight & Angular Motion
 1.8 Torque, Coupled forces & Angular Momentum
 1.9 Summation of force
 1.10 Observation and Feedback
Module 2 – Applied Physiology
 2.1 Introduction to Physiology
 2.2 Introduction to the structure of the muscular system
 2.3 Factors impacting the generation of muscular force
 2.4 Muscular adaptations to resistance training
 2.5 The Nervous System
 2.6 Biochemistry and Sport Performance
 2.7 Neuroplasticity & Neuropsychology
 2.8 Energy systems and their interaction
 2.9 Endocrine & Integumentary Systems
 2.10 Fatigue, Stress, Rest & Recovery
 2.11 The effect of travel on athlete physiology
 2.12 Special considerations for female athletes
 2.13 Anecdotal thoughts on physiology in action
Module 3 – Functional Anatomy & Kinesiology
 3.1 Introduction to Anatomy & Kinesiology
 3.2 Anatomical Terminology
 3.3 Systems of the human body
 3.4 The Skeletal System
 3.5 Skeletal development
 3.6 Spinal abnormalities & skeletal injury
 3.7 Joints
 3.8 Microstructure of the muscular system – recap
 3.9 The muscular system explored
 3.10 Muscles of the human body – Upper Body
 3.11 Muscles of the human body – Hip, pelvis and lower body
 3.12 Muscles of the human body – The 'core'
 3.13 The Fascial Matrix and Sling Systems
 3.14 Muscular injury and its treatment
Module 4 – Training Methodology
 4.1 Methodology defined
 4.2 Adaptation
 4.3 A review of periodization methods
 4.4 An introduction to loading
 4.5 Exercise classification
 4.6 Loading methods
 4.7 Specificity
 4.8 Variation
 4.9 Individualization
Module 5 – Planning & Organization
 5.0 Introduction to Planning
 5.1 General Plans for Specific Populations
 5.2 Planning a Club Document
 5.3 Planning for Specific Event & Player Groups
 5.4 The Annual Plan
 5.5 Medium-term Planning for Reaction-Based Programming
 5.6 Microcycle Planning
 5.7 Session Planning
Module 6 – Progressions
 6.1 Introduction
 6.2 The need for progressions
 6.3 Long term progressions into high performance sport
 6.4 Bulletproofing – creating a healthy athlete
 6.5 Long-term progression of biomotor abilities
 6.6 Long term endurance progressions
 6.7 Long-term speed progressions
 6.8 Long term strength progressions
 6.9 Long Term Special Strength Progressions
Module 7 – Cueing
 7.1 Introduction to cueing
 7.2 An Overview: Learning, Technique, and Technical Models
 7.3 Delving Deeper: Motor and Skill Learning
 7.4 Motor Learning Theories
 7.5 Practice to Actualization
 7.6 Understanding the Teaching Process
 7.7 Feedback
 7.8 Cue formats
 7.9 Practical cueing strategies
Module 8 – Athlete Management
 8.0 Introduction to Athlete Management
 8.1 Personality & Behavior
 8.2 Environment & Group Management
 8.3 Coach-Athlete Communication & Reporting
 8.4 Key Performance Indicators, Accountability, Goals
 8.5 'Balance' & Transition
 8.6 Millennials & Resilience
 8.7 Managing Relationships
 8.8 Maximizing Competitive Performance
 8.9 Coach Health
Module 9 – Strength Development Fundamentals
 9.1 First Principles in Muscular Strength
 9.2 Loading Parameters
 9.3 Eccentric Training
 9.4 Writing the Program
 9.5 Monitoring & Data Collection
 9.6 Strength & Power Assessment
Module 10 – Strength Exercise Inventory
 10.1 – Warm-Ups for Strength Training
 10.2 – Zone 1 Exercises
 10.3 – Zone 2 Exercises
 10.4 – Zone 3 Exercises
 10.5 – Structural Integrity/Tolerance
 10.6 – Rotational Exercises
 10.7 – Bodyweight Exercises
Module 11 – Speed Development Fundamentals
 11.1 An Introduction to Speed
 11.2 Speed: Models, Systems & Theories
 11.3 Fundamentals of Sprinting
 11.4 Speed: The ALTIS Philosophy
 11.5 Speed: The Start-Point
 11.6 Speed: Acceleration Concepts
 11.7 Speed: Maximum Velocity
 11.8 Speed: Error Detection and Correction
Module 12 – Speed Exercise Inventory
 12.1 – Preparing for Speed
 12.2 – Developing Starting Abilities
 12.3 – Acceleration Development
 12.4 – Maximum Speed Development
 12.5 – Developing Speed Endurance
 12.6 – Plan B for Speed
 12.7 – Programming Considerations for Speed Development
 12.8 – Foundation Course Graduation
The benefit of this format and structure allows coaches to study online at their own pace, with a guided program of module themes which knit together through the course. In addition, with the lifelong access the course provides, as we update and evolve the content year-on-year, course members will always have the facility to go back, revisit, and refresh on topics as required: Essentially what you're buying is a lifelong learning resource.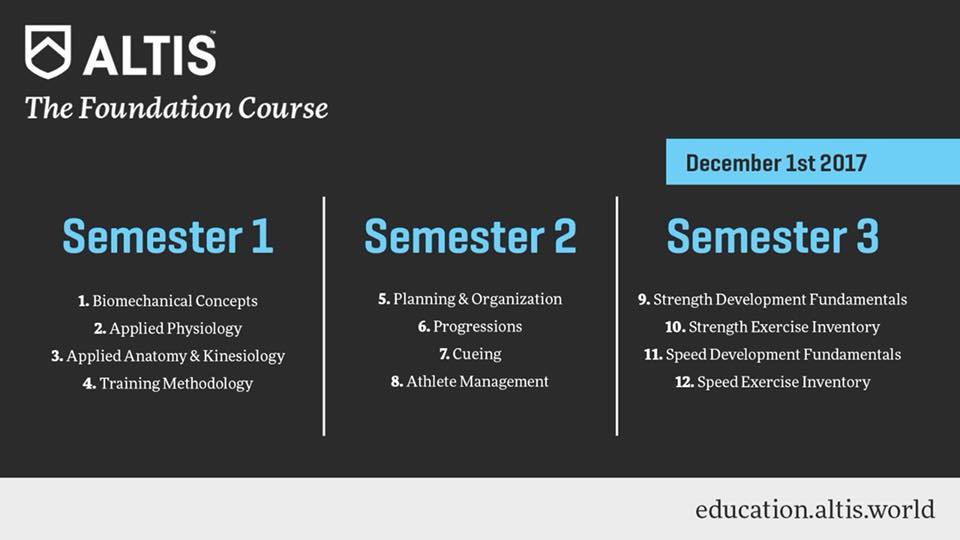 What kind of feedback have you had from the course?
We're really delighted with some of the feedback we've had, the below is just a small selection of the feedback given by our Foundation Course Members:
Greg Rohr – High School Football / Track – USA
"I coach jumps/sprints and receivers for track and football at Sam Barlow HS in Gresham, OR. We have about 150 track athletes and 100 football athletes in the two programs. I am always looking for ways to increase my coaching knowledge of not just specific events, but how to increase overall athletic skill/ability levels. One of my big questions going into the ALTIS Foundation Course was how ALTIS would relate their knowledge to coaches who work with developing athletes in a group setting, such as high school athletics. There are a lot of programs and courses available online but they focus on college and elite athletes and usually just say developing athletes do fewer reps and loads. ALTIS has done a good job bridging that gap and even discusses long-term athlete progression from development levels to college/elite. The course modules also not only include both reading material and videos to watch, but also provide links to supplemental materials for further study. Providing access to the ALTIS AGORA closed group on Facebook has also provided a networking opportunity for coaches to discuss topics. I am constantly having "ah-ha!" moments when studying these modules, no matter if it's biomechanics, training methodology, or cueing. It's challenging what I know and what I don't know. If I had more college classes that were relevant and engaging I probably wouldn't have gone the finance/taxation route for a "job". I think the best part of the Foundation Course is that it is opening up doors for me with knowledge and networking that I previously didn't know how to effectively tackle."
Mike Fountain – Event group coach for sprints – Northern Ireland
"I successfully completed the ALTIS Foundation Course today, which I have to say, completely exceeded my expectations. So much great content, from great coaches, that I will be reading and watching again and again as my own coaching practice develops. I'm really looking forward to the journey that the athletes and I are on, and how this knowledge will help direct us."
Chris Pearson – Strength & Conditioning Coach at Reform Strength & Conditioning – USA
"I mainly work with volleyball athletes at the moment, but, have worked with just about every sport at some point. The course is great because of the depth of the information, it goes into great detail without feeling overwhelming or boring. The extra reading and sourced material is far and away better than most certifications I have taken/completed in the past. The fact you can learn more if you want and you know the sourced material will be worth the time is great – in that you don't have to dig for information and make sure its legitimate before taking it in yourself/referring it to my other coaches on staff. I'll be referencing the material in the course for years to come!"
Paul Beckwith – 

Director of Sports Performance at APEX Athletics

– USA
"This is a great online source for coaches at every level. A scientific approach that takes you from the early stages and beyond. For those interested in the science behind all phases of performance and not just strength and conditioning. I encourage you to definitely add this to your continuing education program. I personally enjoyed the content from external videos, Journals, and additional readings to help tie in the global thoughts from well respected coaches in the community. The fact you get quizzes after each section helps affirm the knowledge and challenges you to critically think and apply the information covered. I look forward to the next phase!"
Robbie Bourke – Physical Preparation Coach & Human Performance Consultant – Ireland

"With so many resources available at our fingertips nowadays it is very hard to decide what is truly worthwhile of our attention and money. I am not someone to promote any resource that I do not firmly believe in. So, I can assure anyone reading this, that the ALTIS Foundation course is without doubt one of the few resources that is worthy of your time, energy, and attention.
This outstanding course brings all the fundamental coaching principles together in such a cohesive and holistic manner. The modules have been organized into a systematic sequence, so that each one builds upon the foundation laid down by its predecessor, and this organization allows the end-user to be fully engaged and present in the learning process. The quizzes at the end of each section are also another extremely beneficial in-built feature, that further your retention and consolidation of the abundance of information that this course covers.
As someone who is currently completing a MSc in Strength and Conditioning, I can confidently say that the ALTIS Foundation course rivals any third-level curriculum that is available today. Oh, and its about 1/10th the price too! This is actually the only area of the ALTIS Foundation course that I would criticize!! Its damn TOO CHEAP!!
If you are someone who considers themselves to be a driven professional in the world of human performance, than this resource is for you. Get on it!!"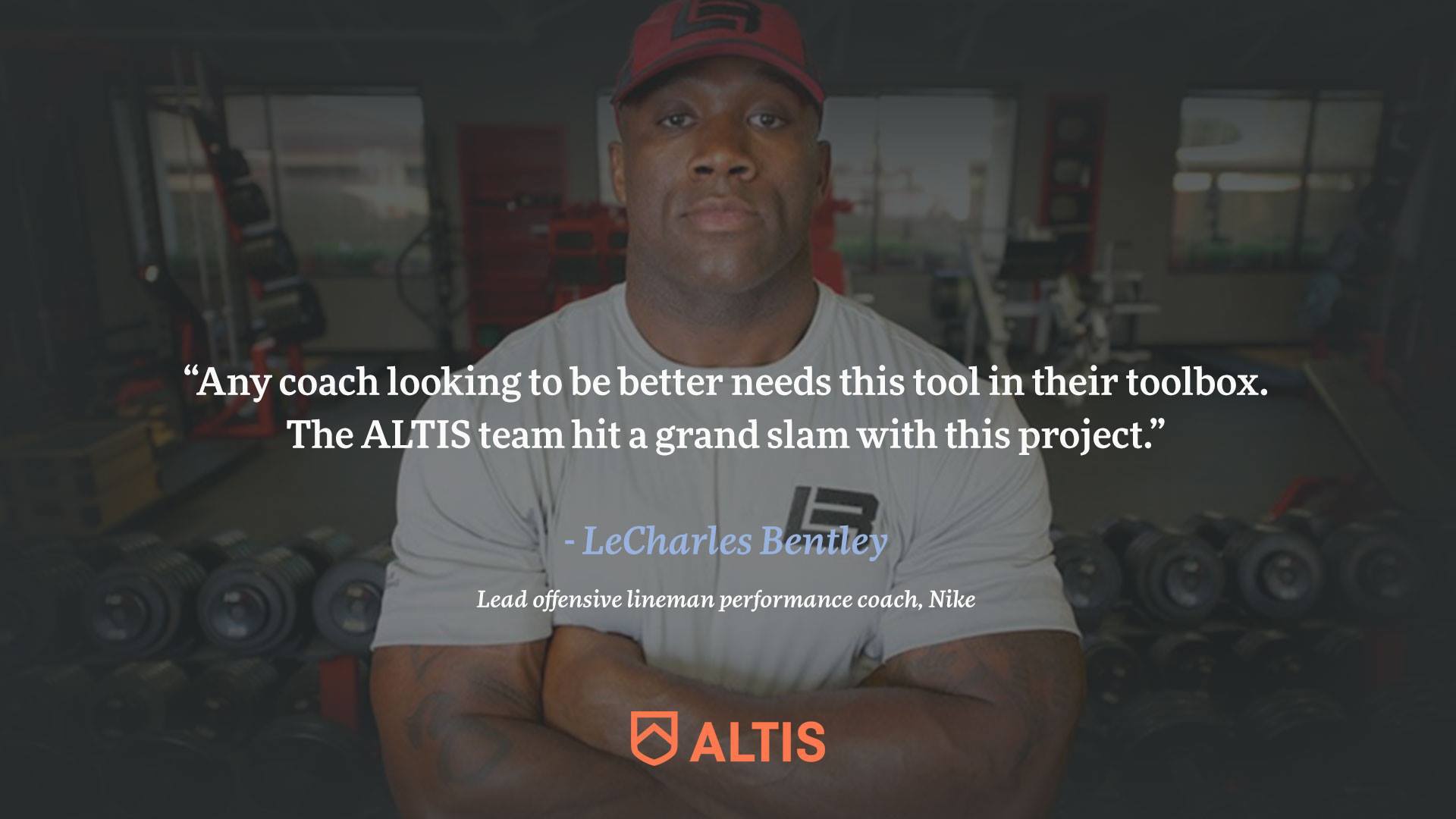 What's your favorite module?
It's a tough one, but I have to say Coach Pfaff's Athlete Management Module has been a real eye opener for me. As those who know him will appreciate, Dan is an incredible mentor who honestly and unabashedly shares his experiences to help guide others. One of the big take-aways from this module for me has been how to manage the inevitable disappointments which occur in sport – both for athletes and coaches – and move forward from them. As Dan said to me on one of our calls "performance coaching is not for the hurried or weak of heart. It is why so few stay in the game long-term. Having the patience of a farmer is critical."
How much does Course Membership Cost?
There are two payment options to become an ALTIS Foundation Course member:
Option one involves a one time payment of $499 which buys lifetime membership to the whole course. If you choose the one-time payment option, course membership is an investment of under $42 dollars per module, or $4.57 per section (that's pretty incredible value given the content contained within!)
The second option is to purchase access to one semester at a time. With this route you pay $199 per semester, and you will need to purchase Semesters 1,2, and 3 separately, and in that order, due to the structure of the content.
When you invest in either purchasing option for the Foundation Course you are also entitled to 10% savings on ALTIS Apprentice Coach Program enrollment.
What do coaches get on completion?
Once coaches successfully complete the course (which requires all 12 modules to be completed, and learning checks to be passed with a score of 80% or higher) coaches are awarded with ALTIS Foundation Course Certificate of Completion. We are also in the process of applying for CEU credits to be associated with the course which would be valid for all coaches completing the course from 1/1/2018 onwards.
What is the next step for coaches once they've finished the Foundation Course?
While the Foundation Course represents our first step into providing structured digital learning, it is certainly not going to be our last! Our mission is to continue to build the ALTIS Education Community as a dynamic, growing and evolving learning hub.
From 2018 onwards, we will be releasing a range of additional ALTIS Classroom content alongside our existing education options: ALTIS 360, the ACP and Internships. Future classroom content will include the much anticipated Digital Performance Therapy Course, as well as provide digital learning choices for continued learning at Foundation Level. This will involve a range of elective, stand-alone bolt-on modules on specialist topics – ranging from Track & Field event group specific modules, to agility, to Motor Learning, and much more.

Can we see a course preview?
For sure! Check out the video below which will give you a sneak peek into the Foundation Course, its look, feel and content.
How can I sign up?
Just head to education.altis.world and after a few simple steps, you'll be able to enjoy access to the ALTIS Foundation Course.